LGBTI+
MSM-TG Vietnam 14 years looking back – a development journey
Sept. 22, 2018
31st July 2013 could be seen as an important mark in the development of the men who have sex with men and transgender (MSM-TG) community in Vietnam with the establishment of the Vietnam Network of Men who have sex with men and Transgender people.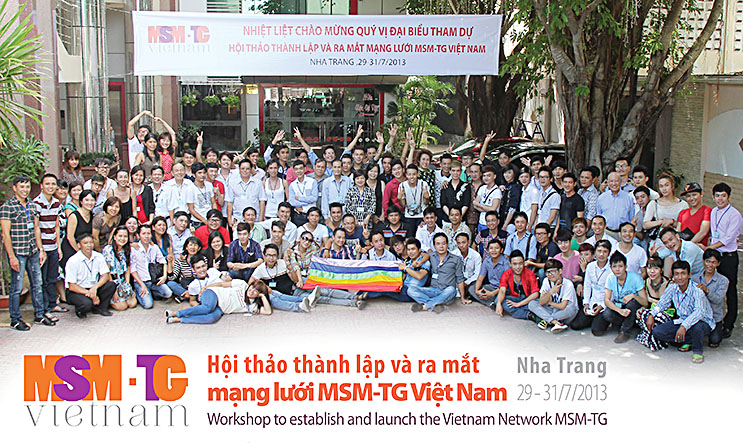 From now on the MSM-TG in Vietnam has had an official network to represent the voice and action for their legitimate rights.

The journey of MSM-TG in Vietnam in 2000 - 2012
Prior to 2000, the MSM-TG community in Vietnam was always seen as "weird" and suffered greatly from social stigma. They were often called using stigmatized words. It is stigma that had caused MSM-TG to be hidden for many years and indirectly taken away their rights to study, work, marriage, inheritance, access to health services etc. Besides, there were no sexual, psychological and care services suitable for this community.

"My parents beat me and took away my clothes. They locked me at home and forced me to marry a woman. I was so miserable and didn't want to sadden anyone any longer so I ran away", a gay men in Can Tho said.

Since 2004, PEPFAR started with some very first projects for MSM-TG in Vietnam. This was the time when many MSM clubs were formed such as Bầu trời xanh (HCM), Hải Đăng (Hanoi), Muôn sắc màu (Khanh Hoa), Ánh sao đêm (Da Nang), Đồng xanh (Can Tho) etc. These clubs were given fundamental knowledge on HIV/AIDS and sexual transmitted diseases; received counseling on safe sex and psychological for MSM/TG; given harm reduction commodities including IEC, condoms and lubricants etc

On 2006, the taskforce working on MSM issues supported by UNAIDS was established. This was the time when many HIV/AIDS prevention projects for MSM were implemented with the financial and technical supports from international non-governmental organizations.

On 2007, the Northern MSM network was established with the technical support from VICOMC and PACT Vietnam. The network supported the establishment of several community-based organizations in Hanoi, Hai Phong, Tuyen Quang, Lang Son, Yen Bai, Thai Nguyen, and Thai Binh etc.

On 2008, the Institute for Social, Economic and Environment Studies in collaboration with representatives from a few Internet forums for LGBTI community such as Tình yêu trai Việt, Táo xanh, Vườn tình nhân, and Bạn gái Việt Nam to form the group "Connecting and sharing information towards a positive image of gay men in Vietnam".

On 2009, the Vietnam Network of Civil Society Partnership Platform on AIDS (VCSPA) supported the establishment of several MSM-TG community-based organizations in Vinh Phuc, Son La, Thai Nguyen etc. This was when many MSM-TG CBOs were formed throughout the country to contribute to the fight against HIV/AIDS in Vietnam.

On 2010, there was booming social media for MSM-TG with many forums and website such as Adamzone.vn, nam-man.vn, thegioithuba.com, vuontinhnhan.net, boyvn.com. tinhyeutraiviet.com, taoxanh.com etc.

On 2011 – 2012, a number of networks specifically for MSM-TG was established such as the Southern MSM network, and the National technical network etc.

However, until the end of 2012 even though many CBOs and networks of MSM-TG were formed, their activities mostly involved networking and entertainment, and only limited to specific areas, without connecting with other CBOs/networks.
Meanwhile, HIV transmission among MSM was rising. They were being violated physically and mentally, seen as mentally ill, forced marriage, stigmatized at health facilities, unable to seek employment, lack of social, health and legal support services. The voice to protect the right of MSM-TG and to oppose stigma and discrimination was still weak, separated and only representing small groups.

31st July 2013 – A memorable moment of MSM-TG community in Vietnam
With such situation and the need for an unified network to represent the voice and action for the legitimate rights of the MSM-TG community, on the 31st July 2013, the Vietnam Network of Men who have sex with men and Transgender people (VNMSM-TG) was officially established with 91 member groups across 35 provinces.
This is the result of the unwavering efforts of the Interim Committee – nominated by the MSM-TG community to represent their voice and determination.

Dr. Michael Cassell, Senior HIV Prevention Technical Advisor, USAID, said: "In the past few years, your leadership has helped secure enhanced commitments from the Government of Vietnam, the United Nations, the U.S. Government, and others to recognize and promote the rights of all individuals, regardless of sexual preference or gender identity. The formation of this network is but one product of these efforts".

VNMSM-TG was established and developed to represent, advocate, mobilize resources, protect the rights, support healthcare and connect its members.

The mission of the network is to connect and represent the voice and action for the legitimate rights of MSM-TG community in Vietnam.

Its vision aims to become a professional organization representing the united voice of men who have sex with men and transgender people in Vietnam, contributing towards equality for the community in the country.

The Network operates base on the principles of voluntary; equality, democracy and devotion; transparency, participation of all members; solidarity, cooperation and respect for diversity; civilization; and respect the Laws.

The core values of the VNMSM-TG are Voluntary – Equality – Equity – Solidarity – Respect for Diversity.

The Steering Committee consists of 7 members representing the North, South and Center regions with the term of 2 years.

The Steering Committee has the responsibilities to lead/coordinate the Network to follow its Convention; represent its members; mobilize resources for the Network's activities; advocate; provide resources and technical support; facilitate the participation of members; building capacity for member groups; connect the members; share and update information; strengthen existing groups and develop new groups.

The criteria of the Steering Committee is enthusiastic, value the benefit of the community, being prestigious with the community, good listening and have strategic vision, good interpersonal skill and act on what they say.
A member of the Steering Committee said: "The Network has the role of a flagship, to better protect the community's rights, help them to unify and develop, improve the quality of life, reduce HIV/AIDS transmission, tackle stigma and discrimination. Besides, the Network can help member groups to negotiate with donors for their best interests".

Even though the Network is newly established, it has received great supports from several organizations such as UNAIDS, Pahtway, the Global Fund, SCDI, ISDS, VCSPA etc

The Network wishes to continue to receive technical and financial support from national and international NGOs and agencies; to be able to connect with regional and international networks; to build capacity for the Steering Committee and member groups.

Aside from the initial success and enthusiasm of the Steering Committee and member groups, the Network is still facing with several challenges including the laws not recognizing certain rights of MSM like marriage and adoption; no national guideline on MSM; limited capacity on management and coordination of the Steering Committee; not being known to other organizations/agencies; lack of financial resources; the voice of MSM-TG community is not strong enough to effectively advocate for their rights; increasing HIV/AIDS transmission among the community (according to UNGASS 2012 report, HIV prevalence among MSM-TG is 16.7%).

Dr. Khuat Thi Hai Oanh – Deputy Director, Global Fund – VUSTA component said: "the Network is strong or weak is up to you. When joining the Network you will have a stronger voice and each individual can have the opportunity to develop. Each member has a mission, which is to develop a network to bring the best benefits for your community".

This was a proud moment as well as a milestone for the community of MSM-TG in Vietnam to overcome challenges and difficulties towards social development.
The Workshop to establish and launch VNMSM-TG received more than 120 delegates and representatives of MSM-TG groups in the country, the Vietnam Administration on AIDS Control, UNAIDS, USAID, Global Fund, World Bank, FHI, Vietnam Civil Society Partnership Platform on AIDS (VCSPA), Vietnam Network of People who use drugs (VNPUD), Vietnam Network of Sex workers (VNSW), Center for Supporting Community Development Initiatives (SCDI), Institute for Social Development Studies (ISDS) and others.

After 3 days, the delegates has been updated on the situation of MSM-TG in Vietnam; agreed on the Network's Convention; successfully elected the Steering Committee; launched the Network; discussed and agreed on the strategic plan and action plan for 2013 – 2014.


KC Hải Vương
Summary of the workshop