Others news
Mass media and Renovation Plan on Drug Treatment
Sept. 25, 2018
The Renovation on Drug Treatment was approved by the Prime Minister almost 2 years ago, yet its implementation has been slow partly due to limited involvement of mass media in communicating the government's new perceptions and strategies towards drug addiction and drug treatment.

In order to increase the awareness on drug treatment and mobilize the participation of mass media in realizing the Renovation Plan, on 6thand 7th August 2015, SCDI and the Department of Journalism and Publication – Central Commission on Propaganda organized 2 workshops on Mass media and Renovation Plan on Drug Treatment. The workshops received more than 80 journalists from different central and local media agencies.

The workshops' presenters introduced basic knowledge on drugs and mechanism of drug addiction; the Renovation Plan on Drug Treatment and the government's strategies to transform compulsory rehabilitation to voluntary drug treatment; international approaches and experiences on drug treatment; and the Bac Giang's voluntary drug treatment model.

The journalists actively participated in the discussion regarding the communication roadmap for the Renovation Plan from disseminating scientific information on drugs, the government's strategies on drug treatment, to voluntary drug treatment services for people who use drugs and their families etc.

The leader of the Department of Journalism and Publication called upon mass media agencies and journalists to assist the communication and implementation of the Renovation Plan by disseminating new information and interventions on drugs and drug treatment.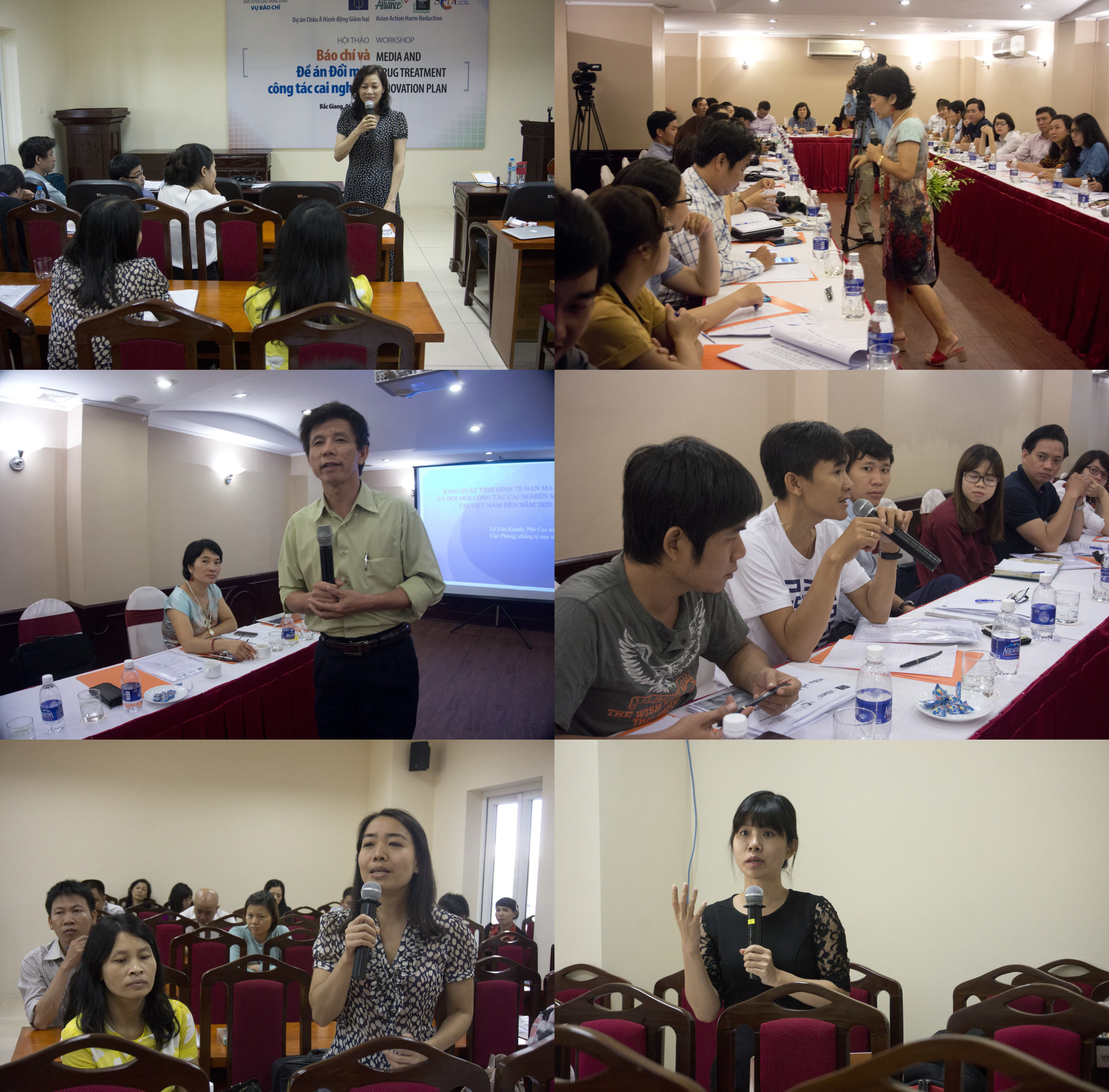 Ms. Doan Thi Thuan, Department of Journalism and Publication (Upper left)
Dr. Khuat Thi Hai Oanh, SCDI presenting Basics on drugs and drug treatment (Upper right)
Mr. Le Van Khanh, Deputy Head of DSEP presenting The Renovation Plan (Middle left)
Drug users representative speaking on the needs for voluntary drug treatment (Middle right)
Journalists discussing how mass media can participate in supporting the Renovation Plan (Bottom)