One Egg A Day
Psychological support and comprehensive care for HIV patients
Sept. 17, 2018
| | |
| --- | --- |
| Project | Psychological support and comprehensive care for HIV patients and capacity building for health workers at partner hospitals |
| Sponsor | GIP-ESTHER |
| Time | 2009 – 7/2013 |

Since 2005, GIP-ESTHER has been implementing comprehensive care for HIV patients on ART at the Infectious disease department at Dong Da hospital and Viet Tiep hospital (Hai Phong). In 2009 - 2010, SCDI's Counseling and Training program continues to receive support from GIP-ESTHER. The activities of the project change every year to meet the actual need of partner hospitals as well as requirements from the sponsor.

Objectives
Improve the quality of life for HIV patients in Hanoi and Hai Phong
Building capacity for health workers in working with HIV patients
Activities and achievements (2009 – 2010)
Direct and indirect psychological and social support for outpatients/inpatients at Dong Da hospital
Counselors provide counseling and support for more than 70 clients on treatment adherence, information on the process to access treatment, relationship with health workers, psychological issues such as fear and dispersion, sexual and reproductive health. In 2010, started Art therapy for inpatients.
Training on Basic counseling for 125 core members of CBO of PLHIV in Hanoi, Hai Phong and Hoa Binh
Training on the model of Safe and friendly doctor for 200 health workers at Dong Da hospital (Hanoi), and Viet Tiep (Hai Phong)
Organize 2 dialogues between health workers and HIV patients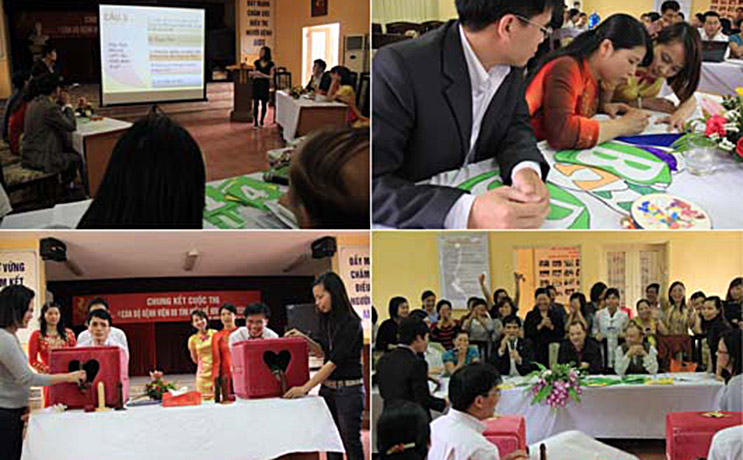 The competition "09 Hospital staff understanding on HIV and drugs" has helped to build the capacity and knowledge of health workers here to better support HIV patients.

Activities and achievements (2011 – 2013)
Direct and indirect psychological and social support for outpatients/inpatients at Dong Da hospital through Nang moi Club and psychological support activities. Nang moi Radio started as a new approach to provideinformation and support the patients.
Psychological support for health workers who are working with HIV patients, collaborating with youth union to organize the competition"09 Hospital staff understanding on HIV and drugs", organizing psychological support activities for health workers on stress at the workplace, working motivation, communication with patients.
Training on the model of Safe and friendly doctor for 200 health workers at Dong Da hospital (Hanoi), and Viet Tiep (Hai Phong).
English course for health workers.
Connect 09 hospital with experts working in the field.