Operational area
COLLABORATION IN DEVELOPING THE MODEL OF VOLUNTARY, COMMUNITY BASED ADDICTION COUNSELING AND TREATMENT SITES IN BEN TRE PROVINCE
Sept. 7, 2020
Highlight of activities
In Ben Tre Province, there are currently 1008 drug addicts and 2095 drug users. 768 drug addicts are receiving addiction detoxification and interventions organized by cities' and districts' authority. This number accounted for 76% of the total number of drug addicts. Specifically, 298 people partake compulsory detoxification, 121 people volunteer to detox at drug treatment centers, 84 people detox at home, 121 people undergo detoxification in community, and 260 people participated in methadone substitution treatment.
However, home-based and community-based addiction rehabilitation in Ben Tre encounter many difficulties including the lack of facilities to receive patients and manage detoxification, lack of trained staff to supervise and implement interventions.
Centre for Supporting Community Development Initiatives (SCDI) shared the world's experience in conducting advanced addiction treatment methods and Vietnam's experience. Accordingly, drug addiction is considered a chronic brain disease. Conference participants had a wide range of opinions and discussions about how to support the model and expressed their concerns about difficulties in implementing the model and giving out solutions.
In Ben Tre, three districts of Chau Thanh, Mo Cay Bac, and Binh Dai, as well as Ben Tre city have been selected to implement the pilot model of community based addiction counseling and treatment sites. Personnel organization, equipment, facility preparation are in process.
On this occasion, the Provincial People's Committee of Ben Tre and SCDI signed a memorandum of understanding including four sections: Collaborate to effectively implement the renovation plan of addiction treatment on the provincial scale; Coordinate to implement harm reduction intervention models for sex workers in the community; Enhance the efficiency of HIV/AIDS prevention with client-friendly and effective models; Coordinate to improve the effectiveness of Methadone treatment in the province.
At the workshop, Mr. Nguyen Van Duc - Standing Vice Chairman of the Ben TrePeople's Committee assigned the Department of Labor - Invalids and Social Affairs to preside over and coordinate with the Department of Health, the Provincial Public Security and the People's Committees of Chau Thanh, Binh Dai, Mo Cay Bac District and Ben Tre City to monitor the administration and assignment of personnel at community drug addiction treatment sites, assign specific tasks, pinpoint difficulties and find out solutions.
Besides aforementioned activities, on August 19-20, SCDI in cooperation with the Department of Labor, Invalids and Social Affairs of Ben Tre province organized training for 25 members of the Department of Labor, Invalids and Social Affairs of Ben Tre province who are health workers, and workers of Department of Labor, Invalids and Social Affairs of districts participating in the pilot model. After the training, participants had more insights into drug addiction, the addictive mechanism, the factors affecting drug addiction, and principles of treatment and simultaneously understood the treatment process and recovery support, and steps to screen, evaluate and intervene harm reduction, and to create motivation through interviews. The training course specializing in medical interventions for point treatment, family counseling, group counseling, cognitive behavioral therapy, and active behavior management will be continued in the future. Representatives of the Ben Tre Charity Alliance– a community-based organization of PWUD, PLHIV, SW, MSM-TG were also invited and will continue to coordinate with community outreach sites and to support people entering treatment.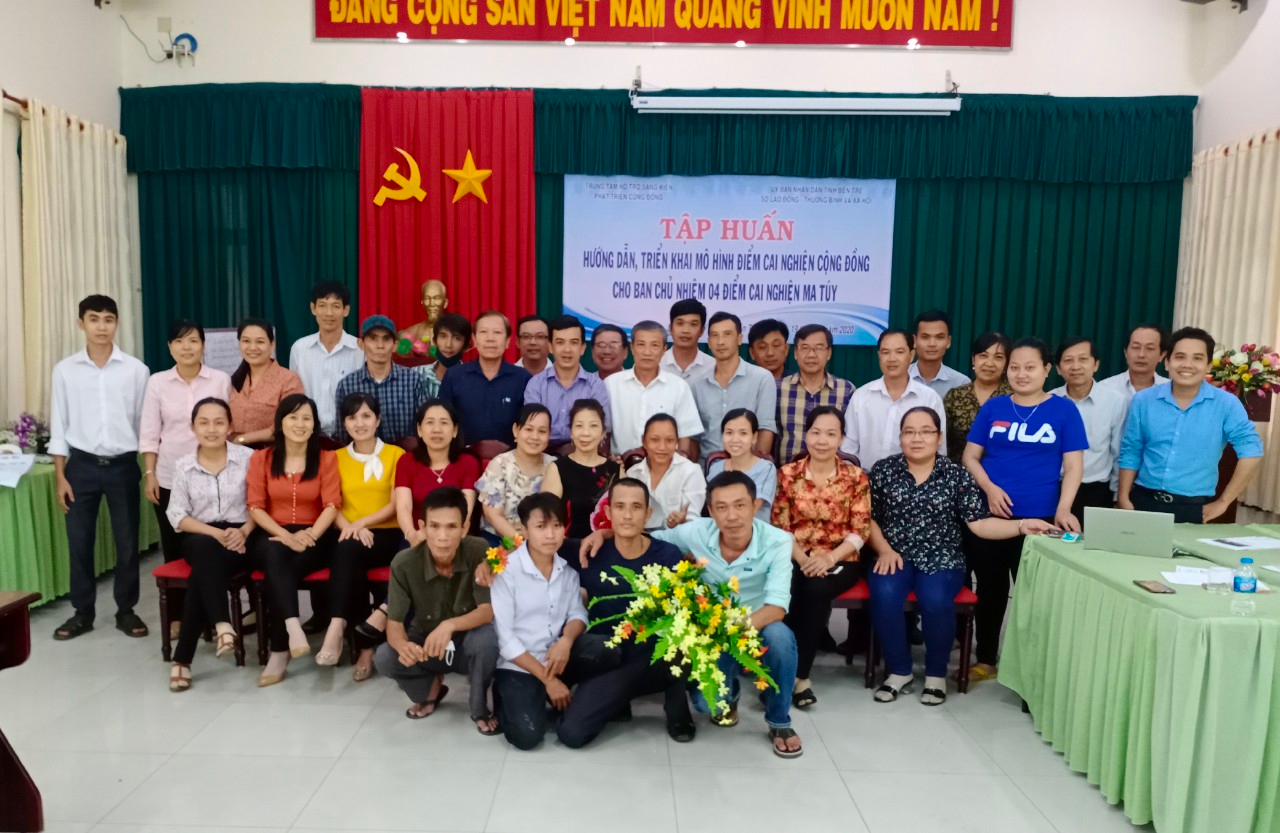 Members of the Board of Directors of Counseling and supporting treatment sites in the community
and representatives of Ben Tre Charity Alliance group participated in the training.
On this occasion, on August 20th, SCDI in cooperation with the local authority organized training for 68 communal police soldiers of 3 districts and Ben Tre city to participate in the pilot model. The police soldiers also expressed their concern about how to effectively organize voluntary detoxification in the community and simultaneously continue compulsory detoxification. The participants also discussed that, if voluntary detoxification brings practical benefits, the addicts can adhere to the treatment for better results. The pilot model also proposes that communal police will participate in sending drug addicts to sites for voluntary treatment.
According to the plan, the pilot models are going to come into operation from September 2020.
Participants and Dr. Khuat Thi Hai Oanh, SCDI director were sharing at the training course on August 20, 2020.
Support don't punish
"No blame, no judment in case of relapse… If the client relapses and continues to return to treatment, it is a sign of the desire to change and the treatment results will continue to get better... Voluntary community-based detox is completely a whole new approach to comprehen the interventions and treatment for addicts in Vietnam. They can get closer a whole new horizon, a happy and healthy life, because Treatment is recovery..."
Experience exchange from SCDI helped to clarify the necessity of voluntary and community-based detoxification in order to encourage and mobilize the participation of patients, and assure no administrative penalties, no blame, and no judgment in case of relapse. If the client relapses and continues to return to treatment, it is a sign of the desire to change and the treatment results will continue to get better. On the other hand, community-based treatment will involve not only detoxification but also referral to constantly support appropriate treatment for common diseases in drug users such as tuberculosis, hepatitis B, C, and HIV. Voluntary community-based detox will apply professional interventions in medical and psychological, legal, life skills, social support, self-help group support, and community-based supports rather than focus on measures to handle administrative violations. Successful treatment is evaluated based on the social function recovery of the patients such as improving health conditions, increasing employment opportunities, soaring income, reducing law-violating behaviors, reducing drug use, methadone substitute treatment, more life satisfaction, or reducing social stigma.