Operational area
Community consultation on draft of Gender Transition Law
Sept. 10, 2018
In order to develop a gender transition law that addresses the humane approach, thus enables transgender communities to exercise their rights and to be protected by law, on May 12, 2017, at the 8th Central Guest House Chu Van An, Hanoi, the Public Consultation Workshop was held with the Draft Policy Impact Assessment Report of the Transgender Law Project. The seminar was organized by the Legal Department - Ministry of Health, Institute for Social Studies, Economics and Environment (iSEE), with many participants from VNTG Network.

Transgender people often face many difficulties, such as high surgery cost, lack of health care, abuse by unlicensed cosmetic surgery centres, the draft of gender transition law was implemented to create an environment where transgender people are recognised, procedures and regulations are in place to ensure effective gender transition for those sincere in their wish to change sex, improve their quality of lives while minimizing the existing legal conflicts in Vietnam.

Introduction Workshop, MSc. Dinh Thi Thu Thuy - Legal Officer - Ministry of Health, Secretary of the working group on Gender Laws, presented the policy impact assessment report. Four main concerns were listed, including Socio-economic, gender, administrative procedures, etc.


Photo: VNTG Board members expressed their opinions

Policy groups were discussed including: Transgender recognition cases; Change of civil rights after gender transition; Legal age where medical gender reassignment is permitted; Determining the psychology of transsexual; Conditions for health facilities involved in gender transition; Recognition of medical interventions for gender reassignment that took place before the law goes into effect, and in particular, the payment of costs for gender transition.

To be recognized as transsexuals, Dr. Nguyen Huy Quang, Head of Legal Department - Ministry of Health, stated that there are three main solutions:
Internal Medicine Intervention: people having undergone psychological evaluation, used hormone for a continuous period of time (about 02 years or more) are recognized as transgender;
Internal Medicine and Surgical interventions: people having undergone psychological evaluation, used hormone for a continuous period of time (about one year or more) and undergone partial or whole surgery (chest or genital reconstruction surgery) are recognized as transgender;
Psychologically determined only, no medical intervention: People with just a confirmation of psychological evaluation (according to the standard table) and determination to have a desire of gender reassignment, and these papers are submitted to the judicial authorities to indicate their wish to be identified as transgenders, are recognized as transgender.

Comments from the community favored the second or third solution; however Dr. Quang said that, in line with socio-economic, legal and ethical conditions and in accordance with the national cultural traditions, 1st and 2nd solution are suitable for most countries in the world. For the case of non-medical interventions, only psychological evaluation can lead to cases of abuse to avoid military service or legal responsibility; or may be even the consequence of copycat.

It's also very important to consider the minimum age of medical intervention to have gender reassignment because this decision will affect the rest of a person's life. Many argue that it is recommended the age of 18 and above because people this age have self-determination and are fully aware of personal rights, self-responsibility for civil act capacity, well suited to the current Code of Civil.

Regarding marital status, the solution is inclined towards celibacy (unmarried, divorced, widowed) to create favorable conditions for those who wish to have their dreams fulfilled. According to Dr. Quang, this represents a very humanitarian meaning and Thien An, transsexual in Saigon, also opted for this solution.

For agreed health facilities for gender reassignment surgery, as there are currently many institutions are abusing patients for profit, and the burden of consequences is on transgender people. Therefore, it's necessary to have appropriate policy to protect the health and life of transgender. The recognition of medical interventions that have taken place before the date of validity of gender transition law, should be also considered.

"Medical intervention for gender transition, including hormone use, chest and genital reconstruction surgery can be performed to a varying degree with internal intervention in some health facilities. The whole surgery, which requires advanced technologies, thus different conditions are imposed on different facilities. After surgery, the hormone therapy maintenance is less risky, which leads to reduced requirements for health facilities. "
Dr. Nguyen Huy Quang (Director of Legal Department - Ministry of Health)

"Surgical intervention requires advanced and in-depth techniques, if these are too relaxed, the shape, quality and function of the body parts are affected. If the person undergoes the same surgery over and over, it will be extremely risky for the health, along with a huge economic burden. So you (the transgender) will be affected the most if you choose cheap and unqualified surgery in the first place. "
Dr. Quang - Viet Duc Hospital


Regarding the payment of cost of gender transition, the question is whether people in need for this surgery are considered patients, so that health insurance can cover part of this cost, because of the exorbitant cost of performing surgery: the gender transition hormones (by injection or drinking) cost about 1-17 million per person each year. People wishing for total gender transition are required to pay about USD 4,000-5,000 (about VND 90-110 million), or even USD 30,000-35,000 (VND 700 million) for a sex reassignment surgery.
Transgender people make up only 0.1 to 0.5% of the population, and the number of people who actually expect and are qualified for gender transition will be even less. However, the transgender people also suffer from stigma, it is therefore, difficult for them to have access to good and stable jobs to cover the cost of performing the surgery. According to Dr. Quang, the LGBTi community and transgender are completely normal people, and cannot be considered as patients. Dr. Quang's solution is to implement a financial mechanism other than health insurance, such as advocating for the Fund forTransgender Assistance to cover the costs. Since transgender is not a disease, the inclusion of intervention costs into health insurance will face many difficulties because the Law on Health Insurance clearly regulates the list of categories and receivers of payment.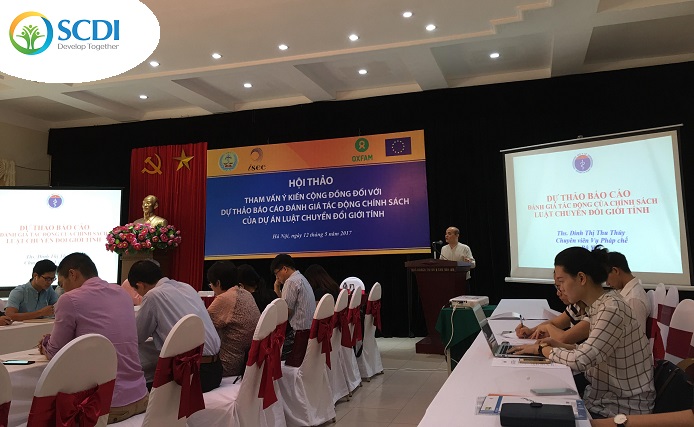 Photo: TS. Nguyen Huy Quang, Director of the Legal Department at the Ministry of Health at the seminar

Members of the VNTG network have expressed their sincere and heartfelt comments for each policy category as well as shared difficulties in finding appropriate surgical and treatment facilities in Vietnam because of lacking legal system. They also provided appropriate solutions to the problems in each of the above policy categories, making the consultation workshop highly effective. Participants from the congressional office also had good impression of LGBTi community and supported the urgency of building the Gender transition Law. According to Ms. Thanh Tra from the National Assembly Committee for Social Affairs, Vietnam has shown progress for being among 61 countries in the world that approved the drafting of the Gender transition Law, but still needs to meet some more conditions to ensure the feasibility and suitability of the law with the socio-economic and cultural conditions of Vietnam.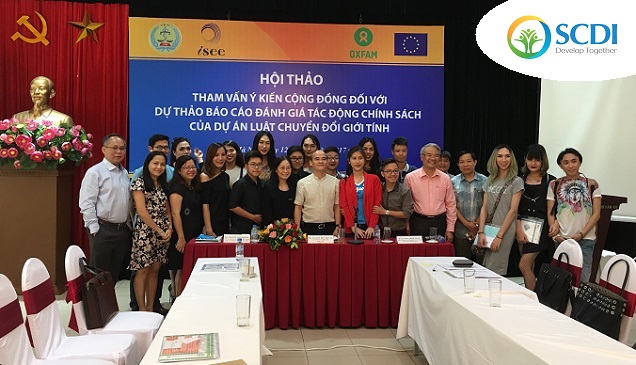 Photo: Participants in the workshop

It is expected that by the end of 2017, the draft will be submitted to the Ministry of Justice, the Government Office and the National Assembly for consideration in the National Assembly Law enforcement program. By the end of 2019, early 2020, the draft will be expected to be adopted. After the National Assembly has put in the program, Vietnam will construct a detailed draft on gender transition law.


Van Anh