Operational area
Innovation in addiction treatment in Khanh Hoa after 1 year of cooperation
Oct. 19, 2018
On October 24th, 2016, People's Committee of Khanh Hoa Province combined with SCDI to organize Preliminary Conference on 3 years of implementing a Drug Rehabilitation and Renovation Plan until 2020 and 1year of implementing the Memorandum of understanding between Khanh Hoa Provincial People's Committee (PPC), assistant experts of National Committee for AIDS, Drugs and Prostitution Prevention and Control and SCDI.
Mr. Nguyen Duy Bac - Vice Chairman of Khanh Hoa PPC, Mr. Le Huu Tho - Director of Department of Labour, Invalids and Social Affairs (DOLISA) chaired the conference. There were also representatives from related Departments in the province, such as Department of Health, provincial police, Nha Trang PPC and 7 districts, 6 communes/ wards having implemented community drug counseling, care and treatment Sites.

| | | |
| --- | --- | --- |
| Photo: Mr. Nguyen Duy Bac - Vice Chairman of Khanh Hoa PPC and other attendances | | At the conference, Mr. Le Huu Tho, Director of DOLISA, noted the initial progress of the province in the implementation of the Drug Rehabilitation and Renovation Plan project in accordance with Decision 2596/QĐ-TTg approved on December 27th 2013 by the Prime Minister. So far, the province has made changes in terms of awareness, material facilities, staff organization, supportive regimes for voluntary addiction treatment at the Center and the establishment of 6 drug counseling, care and treatment Sites in the districts of Nha Trang. |

Mr. Le Huu Tho also emphasised that SCDI was the organization that closely assisted Khanh Hoa city right in the beginning, especially in technical assistance: First and foremost was to raise awareness, update information, knowledge about world scientific progress to demonstrate that drug addiction is a chronic, often relapsing brain disease, often influenced by the social environment but can be treated under stable conditions.

SCDI helped the locals to identify the roadmap, promote the implementation of Site modes at local communities; trained to improve staff capacity, promote services provision, linked between the self-help groups of PUDs and the Sites.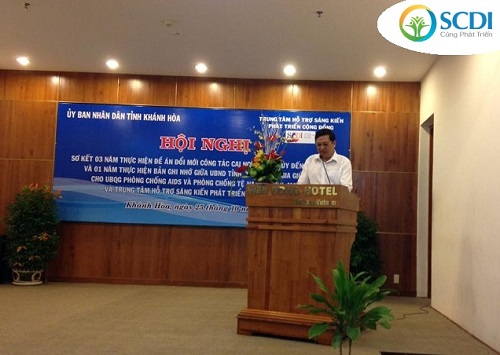 Photo: Mr. Le Huu Tho - Director of Department of Labour, Invalids and Social Affairs (DOLISA)

Presenting at the conference, Mr Nguyen Quoc Thong, deputy Director of Sub-Department of social vices preventions (DSVP), showed that, in only one year of performing the Memorandum of Understanding, SCDI support the province in organizing 03 seminars, 14 training courses on drug addiction treatment, in which there are separate seminars for Justice sector as role of justice in the treatment of drug addiction - judicial therapeutic, trained by Australian judicial expert, who presented their experience, coming up with suggestion for discussion in Vietnam environment); seminar with Communication agencies about the role of communication in drug addiction treatment; sharing survey information proposing measures of implementing Drug Rehabilitation and Renovation Plan in Khanh Hoa province.

In order to assist the drug counseling, care and treatment Sites to connect with customers, and encourage customers to participate in the treatment process, SCDI has provided 03 self-help groups with technical assistants, making self-help groups as an important component of the whole project, attracting customers and make them join the treatment program. SCDI also trained local agencies in organising advanced training classes for the medical and advisory staff. Therefore, in 2016, Khanh Hoa has basically completed the organization, personnel, policy for medical staff and people joining rehabilitation program.

In particular, from SCDI's suggestion of the sustainability of the voluntary treatment model, DOLISA of Khanh Hoa has submitted and got approbation by the PPC about the costs of implementing the Sites from provincial budget, allocated to DOLISA to directly fund the Sites. Accordingly, in the fourth quarter of 2016, the province will allocate 6 Sites VND135 million (VND7.5 million each month, of which VND3 million per month will be paid to the volunteer counselors). The selected consultant must be devoted and trained under the SCDI program to support the province and be accredited by the University of Labor and Social Affairs and the DSVP. The PPC has also approved the plan No. 7893/KH-UBND dated 7/10/2016 for the implementation of drug counseling, care and treatment sites. Accordingly, from 2017 to 2020, the province will invest 2.25 billion VND for the operation of the Sites.

"We're delighted to see the staff more confident in working with PUDs without hesitation or avoidance, as before, the PUDs have been seeking voluntary counseling and treatment at the center, without fear of being arrested. Another joy is that the mechanisms and policies for sustaining the voluntary treatment model have been officially approved by the PPC."


Photo: Ms. Khuat Thi Hai Oanh, SCDI Director, speaking at the conference

SCDI is a Vietnamese NGO operating by mobilizing finance from foreign organizations, foreign and national experts and volunteers. Since 2014, SCDI has been asked by the team of the National Committee for HIV/AIDS Prevention and Control to participate in the pilot implementation of the Project on the rehabilitation of drug addiction. SCDI chose Khanh Hoa not because this is a key province on drugs but because it has an open-minded, dynamic and united leadership team, from provincial leaders to departments and Sub-DSVP.

The main purpose of the pilot project is to make the very first step in renovation process, so it is important to be consistent, not dogmatic nor imposing willpower, SCDI goes to Khanh Hoa to accompany the province to make a change in the province as well as in Vietnam. SCDI is really excited by the "enthusiastic participation of the local staff in the activities we have undertaken, also through the activities in which we have been in touch with related departments and getting to know each other better." SCDI's technical assistance is not only through conferences, training courses, but also practical guidance and experience sharing, directly in communes. The staff that SCDI invited to participate in a study tour about American treatment model has also applied some of their learning in their local work. Exchanges of experts from Australia, France and the United States have also been taken into account, as part of the work plan. The happier thing is that the staff is now more confident in working with PUDs without fear or avoidance as before, The PUDs have also found themselves joining voluntary detoxification program in Sites without fear of being arrested. Another joy is that the mechanisms and policies for sustaining the voluntary treatment model have been officially approved by the PPC.

From successful experiences, Khanh Hoa province officials shared their experiences in policy development forums organized by MOLISA, which has had a broader impact in the process of reforming drug addiction treatment that suits Government proposal. Looking back a year, Khanh Hoa is now in a different position in the renovation process. SCDI is committed to accompany Khanh Hoa and some provinces such as Ba Ria-Vung Tau, Bac Giang, Thai Binh, etc ... to develop a network of voluntary drug treatment in Vietnam.

Thanks to the contribution and cooperation of SCDI in general and Dr.Khuat Thi Hai Oanh in particular, Khanh Hoa province was honored to receive the Certificate of Merit from the President of Khanh Hoa People's Committee for having achieved excellent performance in drug rehabilitation program until 2020.
Photo: Mr. Nguyen Duy Bac - Vice Chairman of Khanh Hoa Province and Mr. Le Huu Tho - Director of DOLISA gave flowers to Prof. Chung A - a member of the team of experts assisting the Deputy Prime Minister, Chairman of the National Committee of AIDS Prevention and Control, and Dr. Khuat Thi Hai Oanh, Director of SCDI.


Performed by: Đỗ Thị Ninh Xuân
Edited by: Vân Anh