Operational area
Investing in Healthy and Active Ageing for Sustainable Growth
Sept. 10, 2018
On 15/8/2017, Dr. Khuat Thi Hai Oanh, Director of Center Supporting Community Development Initiatives (SCDI) joined the Multilateral Forum " Investing in Healthy and Active Ageing for Sustainable Growth" with the theme of" Regional Approach to Promoting Long-Term Creative Care" in Ho Chi Minh city. About 250 delegates, including 70 parliamentarians, government officials, policymakers, civil society leaders, business leaders, and academic experts from 21 APEC member economies and international organizations attended the Forum, as a delegation of the Asian Forum of Parliamentarians on Population and Development (AFPPD).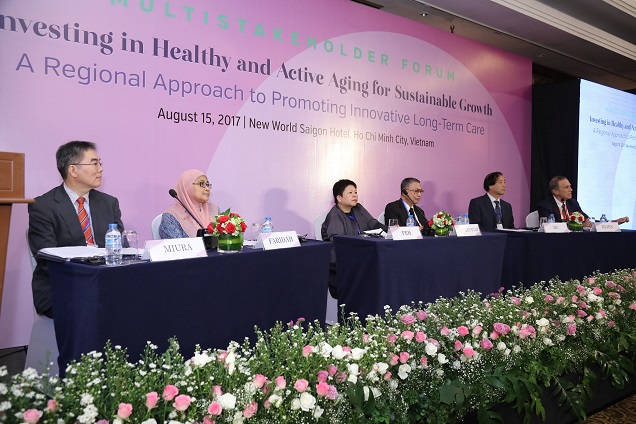 Co-organized by AFPPD, the Government of Japan, Government of Vietnam, Japan Center for International Exchange (JCIE), Economic Research Institute for ASEAN and East Asia (ERIA), HelpAge International, and Japan External Trade Organization (JETRO), the forum is held on the sideline of the third Asia-Pacific Economic Cooperation (APEC) Senior Officials' Meeting (SOM).
The Multistakeholder Forum will address the social, economic and political implications of population ageing in Asia-Pacific, focusing on innovative long-term care and measures to strengthen regional collaboration. The aim of the Forum is to promote dialogue and joint action on regional policy frameworks, to provide input to SOM as well as promote policy debate among APEC officials.
Population of APEC member economies accounts for 40.5% of the world population, but the elderly account for nearly 50% of the world's elderly population. Most APEC member countries are facing the challenge of aging, especially in countries where the number and proportion of elderly people are high, such as China and Japan.
By 2050, it is expected that one in four people in Asia-Pacific will be 60 years old or older. Currently, Vietnam has more than 10 million elderly people (11% of the population), with the fastest expected rate of population aging in the world, which could reach 18% of the population by 2030 and 26% by 2050.
Photo: Dr. Khuat Thi Hai Oanh spoke at the Forum. Source: AFPPD
The Forum is also an opportunity for Vietnam to share and learn from international experience in addressing the challenges of aging population. At the Forum, participants discussed ways to increase cross-border cooperation and inter-sectoral cooperation to help societies adapt to aging populations issues, by creating and developing systems of long-term, community-based and holistic care as well as creating more effective international mobility of skilled care workers.

AFPPD also launched the Vietnamese version of its flagship knowledge product, Briefing Cards for Parliamentarians, at the Standing Committee meeting. It highlights evidence-based policies and good practices on active ageing, investing in youth, and gender equality and women's empowerment.

The press release of AFPPD Forum:

http://mailchi.mp/afppd/press-release-apec?e=b88c8f749f




Vân Anh