Operational area
Mental Health Intervention for Drug Users
June 22, 2019
On June 17, SCDI organized a seminar on "Mental Health Intervention for Drug Users" with the participation of experts and doctors in the field of mental health, domestic addiction treatment and international treatment with the participation of leaders / representatives of state management agencies: Department of Social Evils Prevention and Control.
The seminar was organized to enhance the awareness of mental health issues among drug users, learn from international experiences in mental health interventions for drug users and discuss about mental health intervention strategy for drug users in Vietnam with the participation of experts and doctors in the field of mental and domestic addiction treatment.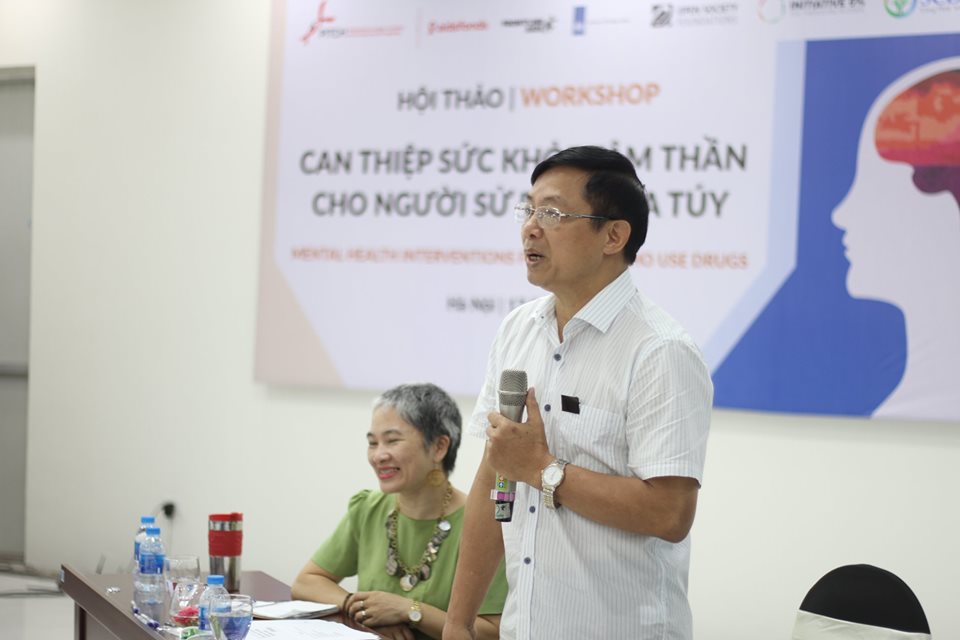 Mr. Nguyen Xuan Lap - Director of Department of Social Evils Prevention presides and manages the seminar
In the world, it is estimated that every 40 seconds, there is 1 person die due to committing suicide . It is also the second cause of death in the world in the age of 14-29 years according to WHO's survey. In Vietnam, at least 3 million young people have problems relating to mental disorders , however, only about 20% of them could receive the necessary medical and treatment support (UNICEF). In Vietnam, Mental Health and Drug Use are two areas that lack of information, communication, prevention to treatment and support in Vietnam. The Center for Supporting Community Development Initiative (SCDI) and partners have recognized the necessity of connecting two areas: Mental Health and Supporting Drug Users together to guide to the goal of reducing harm and optimizing the effectiveness of drug addiction treatment as well as eliminating the stigma of the community on mental health issues.
The conference updated multidimensional information on mental health situation among drug users in diverse groups: from methadone patients, older drug users, youth groups aged 16 to 24 using synthetic drugs ... At the same time, the workshop is also a place to share effective mental health intervention models, open up discussion opportunities to build a long-term and sustainable strategy to solve mental health problems in the drug user community.
In the framework of orientation of intervention activities, PhD. Hoang Dinh Canh - Deputy Director of the Department of HIV / AIDS Prevention said, "In order to solve mental health problems for drug users, it is necessary to expand early intervention for groups at using level". "Compared to the scale of treatment services, it is currently 'touching' the group that is dependent and addicted to drugs. We have had effective intervention models, specialized mental health hospitals that can completely transfer technology,however, it is necessary to organize a system of formal and regulated services with legal documents to ensure sustainability"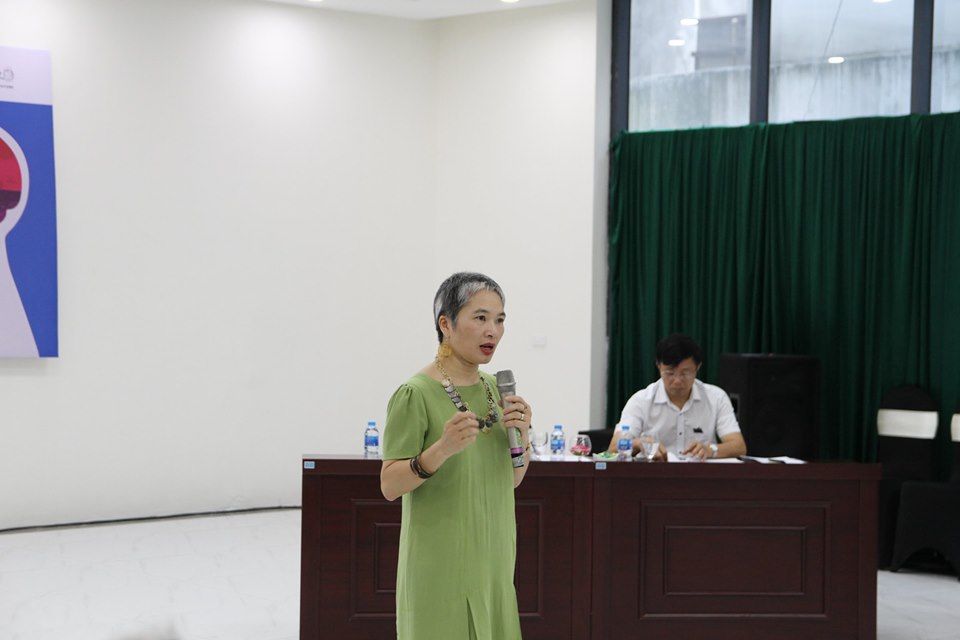 Dr. Khuat Thi Hai Oanh - SCDI director spoke at the conference
Mental health is a public health problem that can happen to anyone in society at any time of their life, from common problems such as insomnia, anxiety, stress ... to more serious illness such as depression, psychosis. In the group of drug users, the incidence of mental disorders is 25%, which is almost as twice as that of the general population. However, not all mental disorders stem from drug use. Commenting on the relationship between drug use and mental disorders, Dr. Khuat Thi Hai Oanh, Director of the Center for Supporting Community Development Initiative (SCDI) shared: "The relationship between using narcotics and mental disorders have three dimensions. The first dimension is using drugs because of problems relating to mental disorder. Secondly, using drug leads to signs of psychosis (available) gradually come out. And finally, prolonged drug use leads to mental health problems. However, in the same person at the same time, these three dimensions can all have a significant impact on the users themselves as well as the whole process of treating addiction and mental disorders "
Dr. Pham Thanh Luan - Department of Psychiatry, Hanoi Medical University shared preliminary results of research on mental health
Reporting at the seminar, Dr. Pham Thanh Luan - Department of Psychiatry, Hanoi Medical University "There are up to 58% of young people using drugs have suffered from depression". Sharing preliminary results of research on Mental health in 319 young drug users aged 16-24 by the SCDI Center and Hanoi Medical University in June 2019, doctors also said that this was a high rate compared to other similar studies conducted before in Asia with the result approximately at 40%. In addition, the initial results of the study also show other mental health issues that are common in this group. There are 38.5% have suicide plans, 51% suffer from paranoia and hallucinations. The adolescents have suffered from mental disorders from young age will lead to more difficult recoveries because the their brain is in development process. According to research, It has been shown that most of the participants in the study use drug not only due to mental health issues but also other social and family issues as well.