Operational area
Saving the Future Project: Survey results and intervention strategy
Oct. 19, 2018
The "Saving the Future – Innovative Strategies to Control HIV Infection among Young people who Use Drugs in Vietnam" has completed the initial study and moved to the next phase of developing an effective intervention strategy for young people who use drugs in Vietnam. In March 10th, 2017, the workshop has been held in Fortuna hotel, Hanoi to announce the initial research results.


Approximately 70 guests, including the President and experts from Expertise France (French Agency for international technical expertise) - the main project sponsor; Prof. Françoise Barré-Sinoussi; Dr. Nghiem Vu Khai, Vice President of the Vietnam Union of Science and Technology Associations (VUSTA); Dr. Khuat Thi Hai Oanh, SCDI Director; Deputies from the Department of Social Evils Prevention; members from CBOs, ANPUD (Asian Network of people who use drugs), VNPUD (Vietnam Network of people who use drugs), as well as many press and media organizations such as Tuoi Tre, Thanh Nien and Phap Luat.


Photo of workshop participants

The input research was done in HCMC, Hai Phong and Hanoi, in close cooperation with CBOs and PACs, from December 2016 to February 2017. The research presentation of Dr. Khuat Thi Hai Oanh has brought many important details such as: marijuana is more commonly used among youth than heroin, young people have started to inject methamphetamine. In particular, Adverse Childhood Experiences (ACE) is an important cause of drug use among adolescents and youth. More than 20% of young people interviewed (among 584 people in total) are still attending school and working, so drug use can put their life and work into great risk, mostly when they are forced into compulsory detoxification center. However, more than 50% of young people interviewed desired for proper addiction treatment and harm reduction, which is a positive sign that SCDI program can lead to multiple initiatives of training and empowering these young people to become CBOs leaders, improving the effectiveness of current intervention method.


Photo: Dr. Khuat Thi Hai Oanh was presenting the input research results from the project.

In the following parts, Ms. Nguyen Thuy Linh - SCDI Children's Program Manager and Dr. Olivier Phan presented the intervention plan for young people using methamphetamine. According to Linh, the communication about knowledge and addiction of methamphetamine to young people is very important, as the majority of adolescents interviewed face many barriers to accessing information. In addition, it is necessary to promote information access to youth through Internet, or virtual channels, as young people need information but they are still hesitant and still cannot be open about their status in real life. Therefore, a representative from KTM Advance - creator of game and application that help to enhance player's knowledge and experience, introduced their future game, which design could suit young people's need, hoping to engage young people to reintegrate the society, improve their connection with other people, get access to health care and harm reduction services.



Photo: Ms. Nguyen Thuy Linh, Children and Youth Program Manager at SCDI, presenting the intervention plan during the next phase of the project.

Invited guests from Expertise France, as well as representatives from the Department of Social Evils Prevention and members of CBOs, also contributed in the conference by asking questions and give comments. According to Vikas from ANPUD, in pharmacokinetics, heroin is different from methamphetamine, so switching from the act of smoking to drug injection depends on the circumstance, not to get high or a stronger feeling. According to Eric Fleutelot from Expertise France, high-risk sexual behaviors as well as tattooing have to be taken into account when developing the intervention method for young people using drugs. Dr. Oanh noted all of these contributions and emphasized the reasons for drug use mostly stem from psychological factors. Therefore, after understanding the causes of the behavior change from smoking to injection methamphetamine, it is necessary to find interventions to prevent this process, in order to prevent the risk of HIV/HCV infection, And the intervention method for methamphetamine must differ from heroin, the old way cannot be duplicated.

In addition, the CBOs were talking openly about the risk of large-scale exposure to diseases. According to CBOs in Hai Phong, the methamphetamine use is collective; no single person would use meth personally, so we should be aware of large-scale exposure (HIV, hepatitis B and C, STIs). Ms. Pham Thi Minh, VNPUD Director desired the program to create a favorable environment with open, non-judgmental approach in order to encourage young people to come to conferences and seminars and share openly their experiences. In order to make it happen, there should be a team of policy advocacy for CBOs, especially in provinces, added Mr Jay Jordens, SCDI volunteer.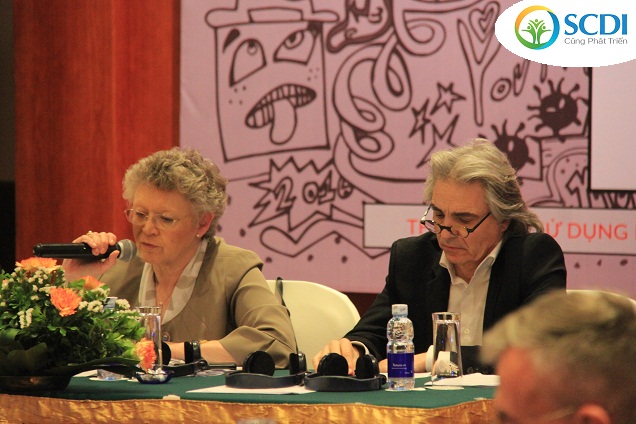 Photo: Prof. Françoise Barré-Sinoussi wrapping up the conference's inaugural session

The conference's inaugural session ended with Prof. Françoise Barré-Sinoussi: This program requires the coordination of all organizations, so open dialogue and cooperation are the two most important factors in implementing appropriate interventions for Vietnam's future generation.

During next sessions of the conference, related organizations and people discussed about the implementation in the next stage.


The presentations and reports of the project can be downloaded here.


The "Saving the Future – Innovative Strategies to Control HIV Infection among Young people who Use Drugs in Vietnam" project, implemented by the Center for Supporting Community Development Initiatives (SCDI), is the first project dedicated to young people who use drugs (aged 16-24) in Vietnam, with the aim of providing suitable and effective HIV prevention and treatment for this important age group.

The project is scheduled for 3 years (2016-2019), with funding from Expertise France (French Agency for international technical expertise), via 5% Initiative program.



Vân Anh