Operational area
SCDI Director Khuat Thi Hai Oanh in "Ba Trieu's 21st century daughters"
Oct. 21, 2018
On the occasion of Vietnamese Women's Day October 20th, Women's Publishing House has published the book " Ba Trieu's 21st century daughters " as a special gift dedicated to all Vietnamese women, where 20 prominent female characters were sketched with unique imprint. Doctor Khuat Thi Hai Oanh - Director of Center for Supporting Community Development Initiatives – is honored as one of the most inspiring women figured in this book.

The book was launched with the cooperation of 2 two female authors of two cultures: East and West, Do Thuy Duong and Irene Ohler gathered 20 female characters from diverse areas of activity, from economics, politics , society, education, culture to art and culture. They belong to all ages, spanning three generations, but "they all offers valuable lessons in life, in spiritual leaders in Vietnam, one of the fastest changing societies of the planet." There are many familiar names such as Mrs. Ton Nu Thi Ninh - Diplomat, Pham Chi Lan - Economist; Pham Thi Kim Oanh - Director of CSIP, Ms. Ha Thi Thu Thanh, Director of Deloitte Vietnam, etc.

On the 55th page, about the women of the 2nd generation –who assert themselves in social fields and whose reputation has spanned across Asia, Dr. Khuat Thi Hai Oanh - SCDI Director has been honored with the mission of a dedicated doctor, who is devoted to most vulnerable and marginalized people. The humanity in her philosophy, as well as her life story were a source of great motivation for SCDI and the community groups that we work with.

We would like to present a part of the story about Doctor Khuat Thi Hai Oanh in the book "Ba Trieu's 21st century daughters".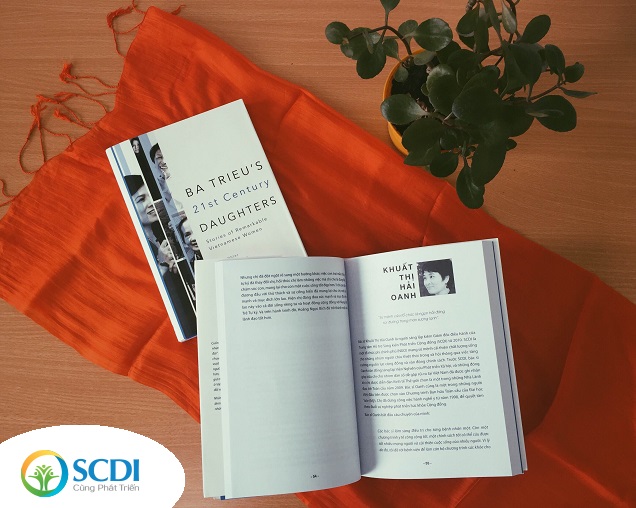 Dr Khuat Thi Hai Oanh is the Founder and Executive Director of the Center for Supporting Community Development Initiatives (SCDI), an NGO that improves the quality of life for the most marginalized populations in Vietnam through community empowerment and policy advocacy. Under her leadership, SCDI reaches out to and helps improve the physical, socio-psycho and economic well-being of thousands of sex workers, drug users, people living with HIV and their spouses, as well as men who have sex with men.
In 2009, she was recognised as a ''Young Global Leader" by the World Economic Forum. Ms. Oanh was the first Vietnamese selected for the World Fellow Program at Yale University.

About thereason why she stopped her clinical practice in 1998 to made the decision to focus on Public Health, she said: "As a clinician, we treat patients one by one, but if we work on the public health program, if it's a good program, good policies, we can actually help to save a lot of lives and make a lot of people better. For that reason, I left the hospital and at that time worked for an American NGO as a health program officer". "My boss [at the Institute of Sociology] was a very well known sociologist. He inspired me and taught me to work on policy advocacy. He made me realize that we can actually influence policies."

"It was the first time that I had anything to do with the people who were considered social evils, like sex workers or drug users. The evaluation in fact changed my life in a very big way. Because it was the first time I came to understand the meaning of social marginalization."

In 2001, her organization at the moment won the bid for the evaluation of the national AIDS program. It was one of the programs that introduced her to a world she had not previously had contact with. By working with the population that would be the center of her future career, having eyes opened to the possibilities of public health programs that could have real impact on the society, in 2002, Ms Oanh's next step was to join an initiative with her sister, Khuat Thu Hong, to co-found the Institute for Social Development Studies. Its first project was working on the stigma against people living with HIV. Together, with the support from French health experts, they have helped to reduce mortality among HIV-positive patients by encouraging them to adhere to HIV treatment, overcome the stigma. For Ms. Oanh, she has been hugely inspired by people she's got to know from the 'margins' of society who have turned their lives around despite their difficult circumstances, many of those people are women. "I have met many incredible women in my life, starting with my mother, also many other women that I have met, even the sex workers, the women living with HIV, or the women using drugs, everyone. Women have a very strong resilience and responsibility, and the sense of accountability is very high. We could write so many books about women!"

In 2010 Ms. Oanh established her present organization,
The Center for Supporting Community Development Initiatives (SCDI),
"I came to the realization that we have managed to create an environment where people can be themselves, I think that's probably the most important thing for me and probably the biggest achievement that we have got is that we have created an environment where people don't have to hide. There they are happy and proud people, so I think that makes me very proud."
"to focus on the people with 'marginal lives'; to empower them, create an environment where they would have the opportunity like anybody else to live and to contribute." SCDI is the continuation of an initiative she started while still with ISDS. In 2007, Ms. Oanh founded the Vietnam Civil Society Partnership Platform on AIDS, which brings together about 400 civil society groups and organizations in coordinated efforts to combat HIV and AIDS. The Platform has created a movement for the most marginalized people in the country. Despite diminishing donor support, the Platform has been growing and growing thank to creative mind and strong willpower from participants. It is this Platform that Ms. Oanh is most proud of in her career so far.


Seems like a virtuous circle, Ms. Oanh's work – SCDI has transformed thousands of lives in Vietnam, which in return provides Ms. Oanh with the energy to work tirelessly to create an environment where even the most marginalized people feel that they can express themselves freely, and contribute in their way to society. It is those people, many of whom are women, who provide Ms. Oanh with her greatest source of inspiration, with their huge reserves of resilience and responsibility.


Vân Anh - Minh Thư