Operational area
SCDI Executive Director Khuat Thi Hai Oanh received HIWC's 2016 Vision Award
Oct. 21, 2018
Hanoi International Women's Club 's 2016 Vision Award is decerned to Ms Khuat Thi Hai Oanh, the Founder and Executive Director of the Centre for Supporting Community Development Initiatives (SCDI). The award celebrates vision, leadership and dedication from an inspiring woman to a cause or a pursuit.

From its year of establishment in 2010, the mission of SCDI is to improve the quality of life for the most marginalized populations in Vietnam through community empowerment and policy advocacy. Under the leadership of SCDI Executive director – Doctor Khuat Thi Hai Oanh, SCDI reaches out to and helps improve the physical, socio-psycho and economic well-being of thousands of sex workers, drug users, people living with HIV and their spouses, as well as men who have sex with men.

In the course of pursuing that mission, SCDI has received strong support from HIWC. In 2002, people living with HIV were severely stigmatized and discriminated against. Being infected with HIV was equal to a painful and shameful death for lack of treatment. From that moment, HIWC was the first organization that gave funding to Bright Future group - a community organization of people who live with HIV in Hanoi. With HIWC's funding, Bright Future was able to set up Cafe P.P - a safe place for people living with HIV to meet and interact. From Cafe P.P, the movement of people living with HIV in Vietnam was born, nurtured and evolved. Bright Future developed into a network that connected, empowered, supported and inspired people living with HIV to stand up for themselves, to have the will to live, to seek treatment and to be active members of family and society.

In 2007, Bright Future joined Ms. Oanh's organization at the moment - ISDS, to start Vietnam Civil Society Partnership Platform on AIDS (VCSPA), which brings community organizations from all over the country together to fight AIDS and to protect dignity of the most marginalized people.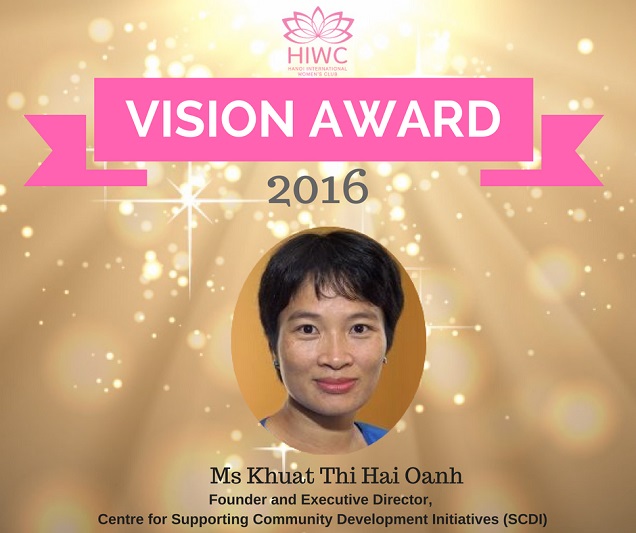 According to Ms. Oanh, being granted this award "is such a wonderful surprise and a big honor".

Thanks to the initial support from HIWC, Bright Future had a great opportunity to develop. "The group inspired me, gave me the confidence in the potential of the community, of the people who seemingly powerless. Their movement has contributed to shape my professional path and my life as a person."

Speaking about her interest of the award from HIWC, Ms. Oanh asserted "This award is very special for me - because it comes from my women fellows, and even more special for me, because of thisconnection. Thank you so much Hanoi International Women's Club for having confidence in me! I am so proud, and so moved!"

HIWC Award Committee will present Ms. Oanh with a commemorative plaque and a bursary to help her pursue her work at their Vision Award event on Tuesday October 18th2016.