Operational area
Support for people living with HIV in Hai Phong in accessing HIV treatment through health insurance
Sept. 10, 2018
Within the framework of the VUSTA - HIV/AIDS Prevention Project, on June 5th-6th, 2017, the Center for Supporting Community Development Initiatives (SCDI) in collaboration with the Provincial AIDS Committee (PAC) of Hai Phong City, jointly organized the Workshop "Supporting people living with HIV (PLHIV) in Hai Phong in accessing HIV treatment through health insurance" at Hai Quan Hotel, 5 Ly Tu Trong, Hong Bang, Hai Phong.

Representatives included SCDI staff and Director Khuat Thi Hai Oanh and Mr. Hoang Thanh Hai, representative of PEPFAR Vietnam, representatives from Hai Phong Police Department, along with doctors and partners from Hai Phong Medical University, PAC Hai Phong, ISDS, representatives from the Supporting Alliance for People living with HIV for Treatment Adherence (SATA +), representatives of CBO "Song tich cuc"("Positive living") as well as CBOs working on projects under the supervision of Vietnam Union of Science and Technology Associations (VUSTA) in Hai Phong.

On June 5th, 2017, the delegates discussed issues such as the overall plan and roadmap for transferring source of funding for HIV treatment, from external fund to health insurance in Hai Phong; Difficulties and barriers for PLHIV in Hai Phong to access and adhere to HIV treatment through health insurance and proposed solutions, especially for issues related to PLHIV and health officers.
On June 6th, the delegates introduced and discussed the technical guidelines for the model and implementation plan of the SATA + and the CBO "Positive living".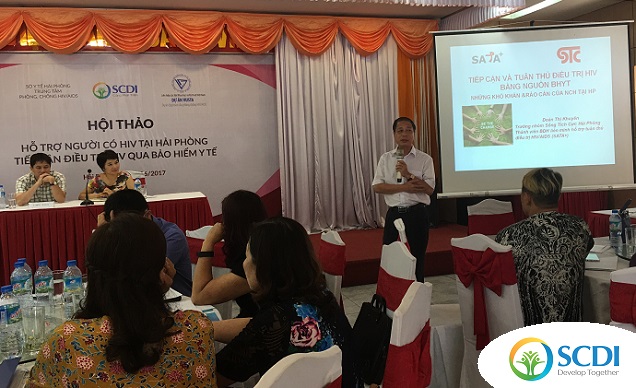 Photo at the Conference

According to delegates, health facilities are gradually being strengthened to receive and refer patients living with HIV. In Haiphong, nearly 70% of PLHIV are still being on ARV treatment (ART). The number of PLHIV in outpatient clinics is 73%. However, there are still many difficulties in implementation, especially the barriers to accessing treatment through health insurance for PLHIV/AIDS (such as lack of official documents, psychological barrier, fear to be recognized and stigmatized when disclosing personal information, and health insurance officials as well as healthcare staff still lack knowledge about patients with HIV, which leads to discriminating behavior, lack of social workers to support counseling in health facilities, etc.). In Hai Phong, 27% of PLHIV have no health insurance card.

In response to difficulties and barriers in policy implementation, a pilot model of PLHIV support to access HIV treatment through health insurance will be implemented in Hai Phong. That is the project "Strengthening the participation of CSOs and CBOs in HIV/AIDS prevention and control", funded by The Global Fund to Fight AIDS, Tuberculosis and Malaria.

The line agency and project owner is VUSTA. The sub-grantees are SCDI, ISDS and the LIFE Center in Vietnam. The project will be implemented in 15 provinces, including Hai Phong.
With the goal that all PLHIV are able to access ART through health insurance, SCDI has proposed to The Global Fund to Fight AIDS in piloting the model of supporting PLHIV to transfer to health insurance. "Positive living" – the CBO of PLHIV in Hai Phong, and also member of SATA + is selected by SCDI as the partner to carry out this activity. It is expected that in 2017 the CBO will support 720 clients who are HIV positive will be successfully acquired HIV treatment through health insurance and 70% of clients will follow the maintenance treatment.


Photo of delegates attending the workshop

The workshop provided recommendations to stakeholders such as the Ministry of Health; Vietnam Social Health Insurance and Health Insurance Department; Department of HIV/AIDS Prevention; HIV/AIDS treatment facilities; General Police Department on administrative management of social order and peer groups. The key point, according to delegates, is the need to widely communicate and disseminate knowledge about health insurance, help PLHIV to access treatment through health insurance, to ensure that 100% of PLHIV are treated through health insurance. In addition, the knowledge of infectious diseases prevention is critically important for health workers, in order to reduce stigma: The doctors, health workers, especially in HIV treatment and care, need to be friendlier to patients with HIV.

Peer groups play a very important role in communicating the benefits and necessity of health insurance for PLHIV: they can track down, encourage and support PLHIV through health insurance. In order to do so, it is necessary for CBO members to coordinate with treatment facilities to give counseling and support for PLHIV in adherence to treatment and to continuously update information on laws, decrees and circulars regarding the health insurance to clients who have HIV.




Vân Anh