Operational area
The closing ceremony of SANL Project - CD10/CD15
Oct. 19, 2018
After 4 years of implementation, SANL CD10/CD15 had come to an end. To send the sincerest thanks to CBOs who took part in the project, SCDI held a Gala Night and a Tribute day in Hoi An city, Quang Nam province on December 17th and 18th, 2015 with the participation of 12 CBOs in Vietnam.



The Tribute day was taken place with many exciting and inspiring activities. 12 CBOs not only shared their stories and experiences during 4 years of SANL CD10/CD15, but also discussed the challenges they had faced and what should be changed to have better results in the future.


Nguyen Quynh Trang from Black Roses translated many of her clients' stories into drawings: "Some of the clients I met with were very depressed and lost all hope in life. I remember the time I met a 20-year-old girl- homeless, unemployed, no money, no ID, and tested positive for HIV. With the help of the Project, our CBO could be able to help her to have an ID and refer her to the personal papers and health services. Now, she has had a family and a stable job".

Tribute Day is a thank you from SCDI to all the CBOs who had participated in SANL CD10/CD15. SCDI presented awards to Hoa Cat Tuong for the best performance in organization development, Night Dawn for the best outreach work, Peaceful Place for the most innovative interventions, and Aloboy for the best referral activity etc.

Ms. Nham Thi Tuyet Thanh – Project coordinator of SANL (SCDI) awarded White Sand from Hai Phong as CBO with the best collaboration with partners

The Gala night "Colorful Flowers" had many activities to connect people and increase understanding among community groups. Nha Ky, a contestant from Cocoboy - a CBO of sex workers from Ben Tre was crowned Miss Colorful Flower. Do Thuỵ An My from Hoa Cat Tuong and Truong Ngoc Yen from AloBoy were announced as first and second runner-up respectively.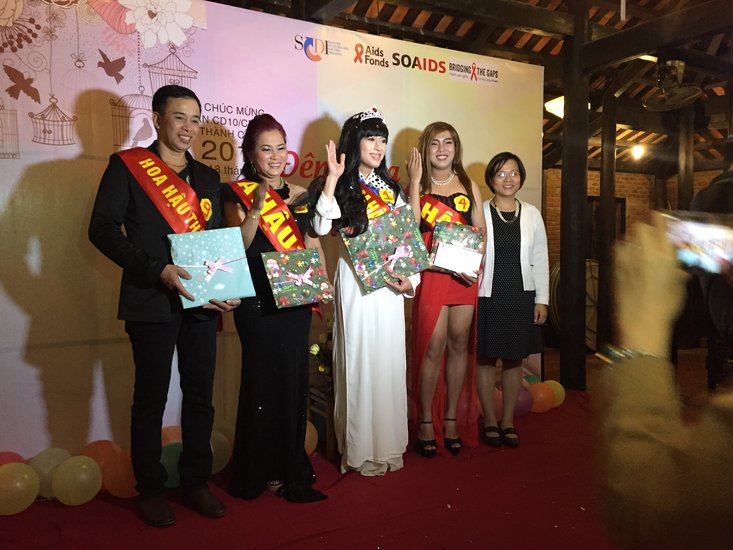 Ms. Nguyen Hoai Huong – Deputy Director of SCDI, SANL Project Manager awarded the contestants in the Gala Night.
From left to right: Miss Congeniality Van Đinh (White Sand, Haiphong City), 2nd runner-up An My, Miss Colorful Flowers Nha Ky (Cocoboy, Ben Tre), 1st runner-up Ngoc Yen (CBO Aloboy, Hochiminh City), Mrs.Nguyen Hoai Huong- SCDI representative.

Nha Ky was very happy when receiving the love and cheer fromthe audience and the jury. "I would like to express my sincere gratitude to my mother, my best friend who has always stayed by my side, to my sister who has made me this beautiful Ao dai, and to the community that has given me much hopes in life", said Miss Nha Ky.

The Gala night was taken place in bustling atmosphere with the costume performancesand the talent round (Aodai dance, hiphop dance, traditional performancess, etc).


Night Dawn performed straw hats dance "Waiting for you"

During the question and answer portion, contestants all gave "short and sweet" answers. Miss Nha Ky talked about the happiness of being true to yourself, Miss An My shared about her dream to help the community of sex workers in protecting their health and improving their voices, Miss Ngoc Yen said an inspiring message of "If I can (do it) so can you", Miss Ngoc Nguyen from Song bien Nha Trang said she would continue her work with the community despite the Project coming to an end, and Miss Thuy Hang said when she faced difficulties in her work she could also share with her peers.

The contest was held in Hoi An's Silk Village. The name Colorful Flowers meant to send a message of diversity and beauty about the community of sex workers whereas they can be true to themselves, support each other and contribute to society.

The Tribute Ceremony and Gala night was full of love, happiness, and smiles on people's faces to celebrate the success of SANL CD10/CD15.

Video clip "The closing ceremony of SANL Project - CD10/CD15"
Reducing vulnerability of sex workers in Vietnam was part of "Bridging the gaps: health and rights for key populations), an international project sponsored by the Netherlands Government. In Vietnam, SANL was carried out by SCDI with the direct support from SOA- AIDS (STI-AIDS), Netherlands. The project started in 2011 and closed in 2015.
SANL focused on the interventions of sex workers (including male and female) in Vietnam, in order to increase their access to prevention, care, treatment, and support services.

Thư Đặng