Operational area
Training in drug addiction treatment in Khanh Hoa and Ba Ria - Vung Tau
Oct. 19, 2018
In July and August 2016, SCDI, in collaboration with the Department for Social Vices Prevention (DSVP), University of Labor and Social Affairs (ULSA) held 2 training courses in drug addiction treatment for social workers in the provinces of Khanh Hoa and Ba Ria Vung Tau.

Photo: Heads of DSVP and Khanh Hoa Department of Labour, War Invalids and Social Affairs and students who attended training courses in Khanh Hoa Province, July and August 2016.

Speaking of attendants, there were in each province 30 delegates who are members of Community-based drug counseling, care and treatment sites, sent out from Women unions, Youth unions and clinics of each commune, and the staff of the voluntary treatment center, partly converted from the Center of Labor and Social Education.

The training course aimed to equip the staff with knowledge and skills related to activities in social and psychological support for people who use drugs during treatment and recovery. The training content was built in accordance with the Drug Rehabilitation consultancy training program framework (draft supported by SCDI and promulgated by the Ministry of Labour, War Invalids and Social Affairs in the Circular No. 04/2016/TT-MOLISA on April 28th2016.

The training content consisted of 3 parts:
- Basic knowledge about drugs, drug addiction,
- Treatment of drug addiction,
- Counseling and psychosocial support for drug addicts

Lecturers of the training were staff from University of Labour Social Affairs.


Photo: Mr. Nguyen Xuan Lap, Director of the Department for Social Vices Prevention (center) attended the closing ceremony and awarded a Certificate of training participation to the students in Ba Ria-Vung Tau.

After 2 weeks of training, students have learned about the physical and psychological impact of drugs on human; mechanism of addiction; new detoxification method; knowledge, counseling skills, especially in cognitive behavioral therapy, motivational interviewing, positive behavior management, Matrix model, group consulting for relapse prevention. Students are also equipped with knowledge and skills in the social support activities such as access to drug users in the community, case management, family support for drug users. In the process of learning, students have shared their concerns, issues in real situation, thus people can share and propose appropriate solutions, considering it as part ofthe practice of knowledge and skills acquired. Therefore the training content was designed to well suit the real requirements from daily work of consulting, social support for drug addicts.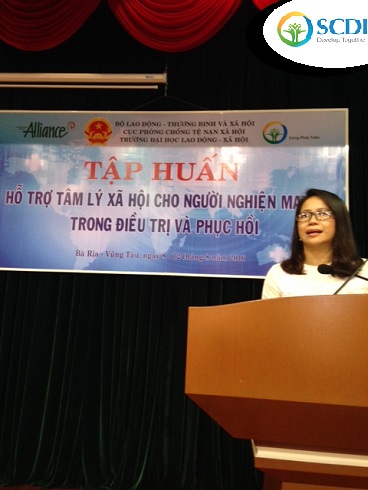 Photo: Mrs. Nguyen Thi Trang Dai, Director of the Ba Ria-Vung Tau Department of Labour, War Invalids and Social Affairs gave summation speech during the closing ceremony.

After these 2 training sessions, SCDI will continue to coordinate with DSVP and ULSA to train social work lecturers in some universities, in order to meet the training requirements for drug treatment staff, following the direction of the Drug Rehabilitation Renovation Plan, approved by the Prime Minister in 2013, while improving the Consultancy document on drug treatment, to which social workers can refer on the process of learning and provide service to people who use drugs./.