Operational area
Training of Clinical intervention, rehabilitation support and relapse prevention from NIDA
Sept. 18, 2018
In three days, from April 3rd to April 5th, 2017, at the Hanoi Medical University, Professor Dennis C. Daley, MD, PhD, Professor of Psychiatry and Social Work, Chair of the National Institute of Drug Abuse (NIDA) has delivered the training program to the trainers and doctors of Hanoi, Hai Phong, HCMC Medical university, staff and experts of SCDI, and the staff of the Department of Labor, Invalids and Social Affairs in provinces.

The National Institute of Drug Abuse is the largest research institute in the United States in research of the causes and consequences of substance use, applying research to improve the health of individuals and communities. Professor Dennis has had over 30 years of clinical trials of drugs as well as addiction treatment protocols (for tobacco, alcohol, cocaine, heroin, etc.). Issued from an underprivileged background, he overcame a poor childhood from a dysfunctional family, with an alcoholic father, brothers and sisters were either drug users or addicts.

In this training program, Prof. Dennis focused on group therapies, family therapy, relapse prevention support to provide effective treatments for drug addicts (including heroin, methamphetamine).

Photo: Prof. Dennis Daley and the training participants


In the first session, Prof. Dennis reviewed the role and challenge in the work of health specialists, emphasizing the importance of Attitude, Skill, and Knowledge in helping drugs addicts and their families. The effects of drugs (including heroin, methamphetamine and other drugs) on the patient's health, in which substance use disorders (SUD) are detailed, and distinguished from addiction. Not everyone who has substance use disorders is addicted and addiction is a more serious disorder, emphasized Professor.

The second session of the training revolved around the criteria for the diagnosis of substance use disorder, the principles of treatment and recovery, in which the role of the recovery team, the therapeutic alliance, the individual and the family were emphasized. In the next section, members are given counseling materials that enhance motivation, manage addiction cravings, control moods, etc. along with hands-on and role playing exercises.

The third session focused on motivation to change behavior, maintain addiction recovery and prevention of relapse. According to Prof. Dennis, the role of the family is often overlooked in the treatment of SUD, thus he called for greater attention to this group. Healthcare workers need to access, connect, join with people with SUD's families, call for their collaboration and support in helping the patient, so that family members are also encouraged and co-developed, overcome negative emotions...
Another important component in the last session, not only for patients but also for medical staff is the ability to control emotions and moods. Negative emotions are listed and interpreted, and the coping strategies in which gratitude is emphasized, leading to better health, satisfaction and well-being.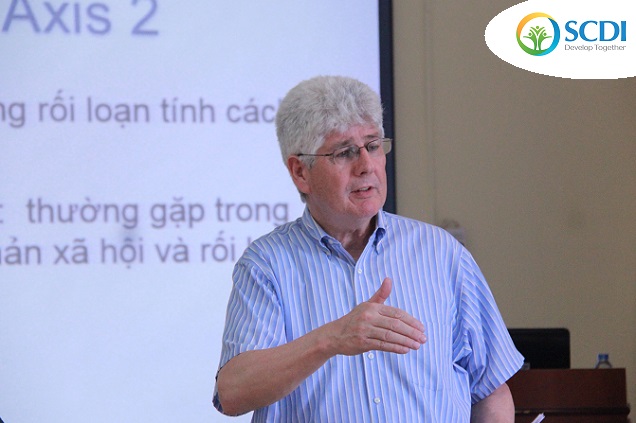 Photo: Professor-Dr. Dennis Daley from the National Institute of Drug Abuse (NIDA)

"You can be a very good doctor, and you can tell a lot of things to a patient, but if you do not bring them the trust and hope, your talent does not make sense. It is important for the people with addiction to have the belief and hope that they can recover, be able to stay sober and be able to rebuild their lives, and they need comprehensive medical and mental support.
As with other chronic diseases such as diabetes, the patient needs to be concerned about his or her eating. Addicts who want to recover are more likely to need it, and they to restore relationships with family, friends and society, and they need our care. "

Professor-Doctor Dennis Daley

The training program has attracted all practitioners and has a tremendous benefit in understanding the causes, symptoms of substance use disorders, clinical intervention strategies and relapse prevention from reputable expert at NIDA, USA. Trainees are satisfied with the course and are looking forward to joining trainings likewise in the future.


Please refer to the NIDA booklet "Substance Abuse Treatment Research - Drug, Narcotic, and Behavior - Science Addiction" - Reviewed, translated and published by SCDI here.




Vân Anh - Minh Thư