Operational area
Training of Motivational interviewing skills in intervention for injection drug users in Hai Phong
Sept. 19, 2018
Motivational interviewing with injecting drug users is a customer-centric approach aimed at enhancing intrinsic motivation to gradually change, by exploring and resolving conflict. In order to help counselors and peers to acquire this skill, on 18 and 20 June 2017 at the Hoang Hai Hotel - 109 Cau Dat - Hai Phong, a training on Motivational interviewing skill in intervention for injecting drug users in Hai Phong has taken place, the training took part of CD21 project at the Center for Supporting Community Development Initiatives (SCDI).

Attending the training course were 2 lecturers: Ms. Pham Thi Thanh Giang, - Methadone treatment counselor (MMT) and Mr. Nguyen Van Minh - lecturer at Hai Phong Medical University, training secretary was Mr. Nguyen Tran Duc, Project officer at SCDI Hai Phong. Participants included 30 outreach workers from the community groups such as Lighthouse, Dawn, Mimosa, White Sand, Friendship Arms, Lotus and the Sun of An Duong.

"Motivational interviewing is a consulting style that engages customer in the therapeutic process while ensuring respect, understanding for the customer and helping clients to take initiative, raise awareness and intensify the specific change."

The training session was divided into two sessions for two days, the first offering basic knowledge about methadone and how to overcome the temptation – this is an important mediation step to reinforce the motivation, change the behavior of people who use drugs. Next, counseling skills, trust and friendship building skills and have been popularized by faculty through a variety of games and examples. Here the role of companions, peers is important to reinforce the patient's determination.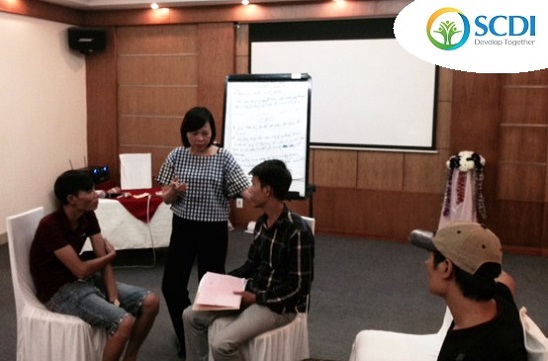 Photo: Lecturer Pham Thi Thanh Giang and Trainees in Methadone treatment support practice

"There are currently 16 methadone treatment facilities in Hai Phong (including medicine delivery facilities) the Thuy Nguyen site records the most frequently treated patients."

(Excerpt from the Training Materials "Understand Methadone")

In the second session, the trainers went into the topic of behavioral change stages and motivational counseling. The behavior to change consists of 5 stages as follows:

• Pre-objective: Not seriously changed, not thinking about change.
• Objective: Not seriously changed, start thinking about change (gain and loss)
• Preparation: Thinking & change perception, preparation for behavior change
• Action: Seriously change the behavior.
• Maintaining: Maintaining the behavior change

(Source: Lecture on Behavior Change and Motivational Interviews - Pham Thi Thanh Giang)


During the remainder of the training, Mr. Minh - instructor helped the participants to understand and practice basic communication skills, from gestures such as shaking hands to communicating in language.
In the practice session, the trainees jointly practiced behavior change counseling in the specific case of supporting ART patients, MMT, health insurance. 2 trainers have actively supported the trainees and received feedbacks for improvement.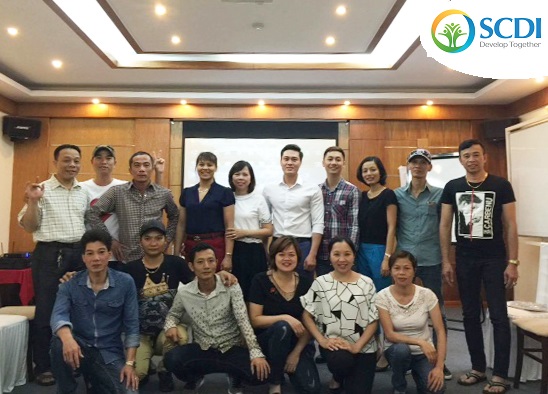 Photographs of faculty and students of Course 1

The training received positive feedback from both students and faculty. According to trainee Hai, "After this training, we know what kind of steps we need to take and we know that in the past, we have talked to clients in a spontaneous way, without systemic skills and communication process" . According to trainee Son, the training is very useful and "helps the outreach workers to comprehend the theory, practical experience of trainers as well as other peers in their work."

Trainer Giang concludes at the end of the training session: "Thank SCDI for organizing the training, and all participants for their interest and enthusiasm in the training and hopefully the outreach workers will apply well the method in taking care of their customers ".


Trần Đức – Vân Anh