Projects
Face-to-face with drugs photo exhibition
Sept. 18, 2018
The exhibition was organized in Hanoi in 20th – 25th June 2011 on the occasion of the International Day against Drug Abuse and Illicit Trafficking – 26th June. The exhibition was supported by the Open Society Foundation, and USAID with PEPFAR's financial support through Pact Vietnam. This is the first official exhibition in Vietnam to describe the lives of people who use drugs.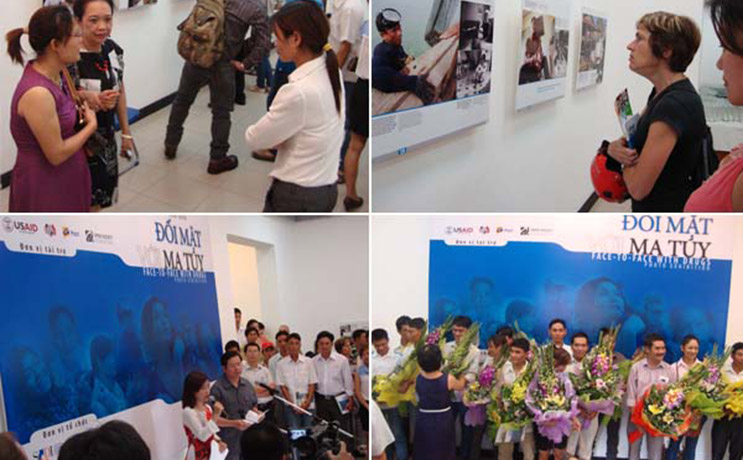 Images from the exhibition

The idea for the exhibition arose from the context of limited understanding about drugs and drug users in Vietnam, leading to severe stigma and discrimination towards them. Lack of understanding and stigma are two big barriers to drug response as well as HIV prevention in Vietnam.

Photographer Pham Hoai Thanh and 50 people who had and was using drugs had spent more than 1 year to complete the photo collection around the lives and difficulties of people who use drugs. With the approach of initiating dialogues, the people shared their problems in life and also their contributions to harm reduction efforts. The stories highlighted the support from family, community and civil society organizations, recognized the impacts of behavioral change communication and psychological support programs, N&S exchange and Methadone maintenance therapy and especially the community-based approaches of people who use drugs.

The exhibition wished to present different aspects of the live of people who use drugs to give audience a clearer and unbiased view on this social issue and to affect the way society saw and treated people who use drugs.

The exhibition consisted of 4 parts with each describing a stage of drug users' live


1. Drugs exit everywhere; the reasons for drug use; and the attraction of drugs
WHO's definition of drug addiction
People use drugs as a mean of communication, like alcohol and tobacco use, to create social connection
Drugs affect the central nervous system and people tent to use drugs as a way to deal with their mental and physical issues
Drugs do not differentiate rich or poor, educated or not, ages etc
Drugs are everywhere
2. Struggling with drugs
Drug dependent as a chronic disease
Drug treatment approaches and efforts of families, society and people who use drugs
The consequences of stigma
Special cases in drug treatment
Pain and tear in dealing with drugs
3. Opportunities
Harm reduction
Successful drug treatment models
Successful individuals: self-detoxification, community detoxification, detoxification at centers etc
Methadone maintenance therapy
Post-rehabilitation counseling and support
Community-based drug treatment do not aim for total abstinence but for drug users to be in control of themselves
4. Contributions to society
Participate in social programs
Drug users who have not succeeded in drug treatment but still participate in social works
Working together model
Hard working
Help their peers
Rebuild their lives
Achievement

"I could see many developments that I didn't see before despite many years of working on this field. I will study this book more carefully to have appropriate changes in drug prevention", Mr. Le Duc Hien, Deputy Director of the Department for Social Vices Prevention (MOLISA) said.

After Hanoi, Hai Phong will organize 4 exhibitions at universities and high schools. The U.S. Consulate in Ho Chi Minh city and USAID Vietnam will also hold the exhibition at the consulate and at the public center in Ho Chi Minh city.

The collection will be used as demonstration for a report on using positive images in communication to raise awareness on people who use drugs at the 10th International Congress on AIDS in Asia and the Pacific (ICAAP) in Busan, Korea on August, 2011.