Whoever you are, Mom will always love you
This story is for parents whose children identify as gay, bisexual, transgender, asexual, or any other sexual minority. Thank you for your unconditional love and understanding, and for always being strong. It takes courage to accept and support your children to live happy lives as themselves.
I'm afraid my son is gay.
Nhat Linh was born in the 1970s, and from the moment Linh could walk and talk, Linh's behavior worried their parents. The supposed 'femininity' in 'his' gestures raised concerns, not only with his parents but with others too.
Ms. Ly, Nhat Linh's mother says: "Not long after giving birth to my new baby when he was little when he started walking and talking, I said 'Oh god, I'm afraid my son is gay.'" His father would become aggravated and ask, "Why would you put a hex on your own child? All of a sudden, he's turned out like this."
As Mrs. Ly chuckles, the fine wrinkles on her face are softly revealed. Slowly, she recollects fragments of memories from more than 40 years ago. Ly reminisces the difficulties her daughter grew up with, the tough times when Nhat Linh's father took her to treatment services to 'cure' her 'gay disease'. Nhat Linh's mother at the time thought that her child had a minor disability, and as a mother, she had been so blessed that the 'disability' was only minor.
Ms. Ly remembers: "She looked pretty in girl's clothes. She liked it when we let her do that and always thought wearing boy's clothes was 'weird'. Even though we beat and forced her, she still wore what she wanted when growing up, and became independent and made her own money."

Over time, such normal occurrences persuaded Nhat Linh's mother to believe that her child was no different from many others, she was not abnormal.

Ly recalls a time when she went to church. She saw a girl from behind and thought, "That girl looks peculiarly beautiful." It was only when Ly moved forward that she realized it was her child. Over time, such normal occurrences persuaded Nhat Linh's mother to believe that her child was no different from many others, she was not abnormal. Ly would joke that "I only allow it because Linh looks so pretty in girls' clothes."
As a mother in the '70s and '80s, she could never voice her true thoughts and feelings, and hid her mixed and confusing emotions so her child could live happily - any mother would suffer to see their child being so 'different' to everyone around her. She admits feeling embarrassed, yet she states how trivial a burden it is compared to the fear that her child may be despised by society, which burdens her a thousand times more heavily than any 'shame' ever could. Her loving smile says all that she couldn't say back then: She is proud of her baby, and that is worth more than any 'humiliation' or 'bitterness' ever experienced in the past.
On the way of understanding myself
As a girl, I won't cut my hair.
I love every strand of it!
Somewhere along the winding alleyways, blazing sunshine pierces through the leafy streets. Linh and her mother's house lies on a tiny corner of the sidewalk, surrounded by grocery carts, street vendors, and foam boxes. Old cardboard sheets form a slanted roof, precariously close to tipping which would see the whole structure crumble - inside the heat is intensified by the tarpaulin 'walls'."Sit down honey, I'll be done in a few minutes." Despite her aging years and the lines of hardship etched into her face, she manages a graceful smile.
Linh is making noodles…
Around three years ago Linh's father fell ill, so she decided to quit singing and selling lottery tickets (which had been the main source of income for the whole family), and come home to look after her parents. Sadly, however, around the same time her father passed away, her mother was diagnosed with cancer. With no more money, not even enough to pay rent, the family had to turn to and depend on the support of their neighbors, who have allowed them to use a piece of the sidewalk outside of their house for 10 years without complaint. It's a harsh life, bearing the intensity of Vietnam's six months of sunshine, six months of rain, with little more than a tarp for protection.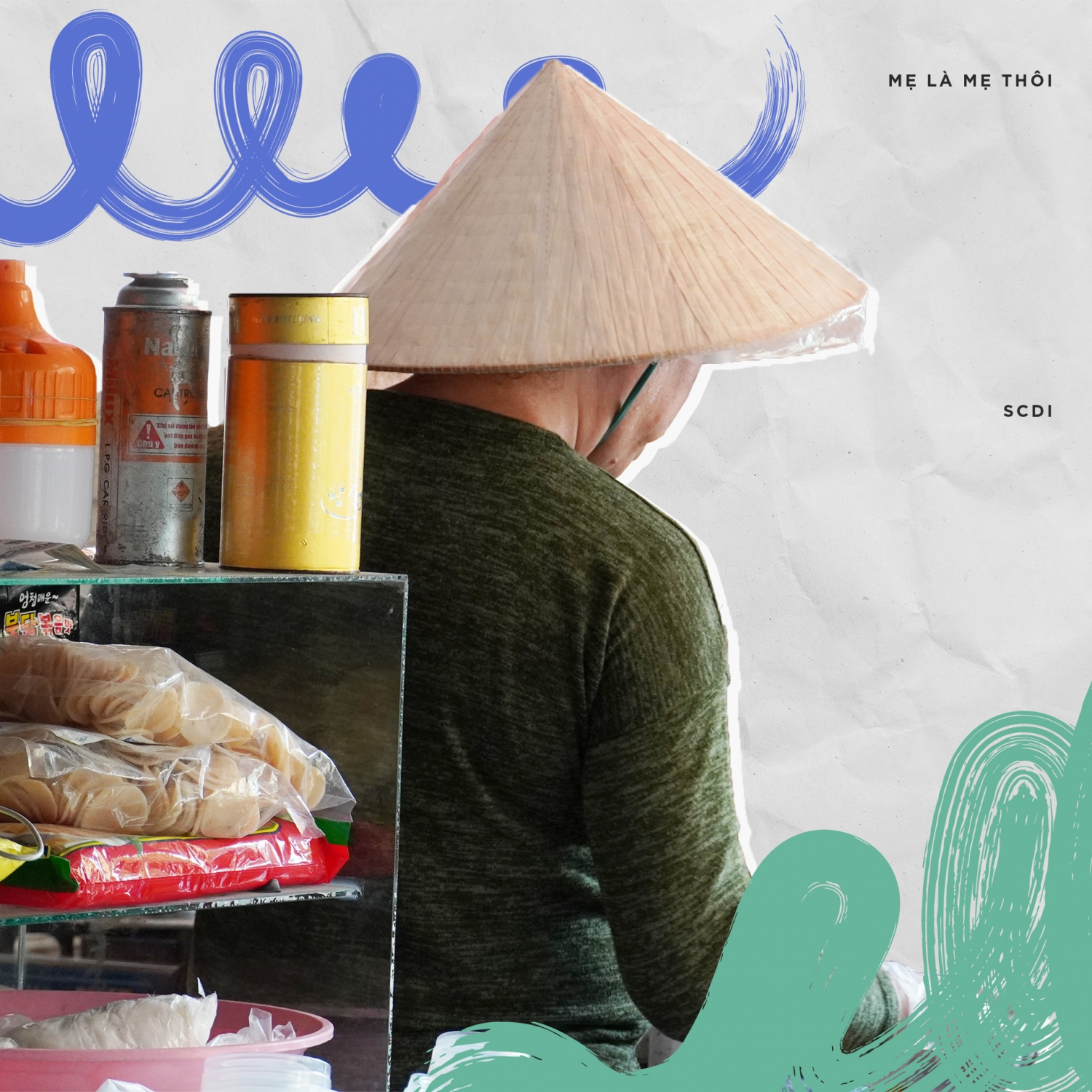 Sadly, transgender individuals rarely find work in the formal sector. They often follow a troupe traveling around Vietnam's Southern and Western Provinces.
"Singing, dancing with fire, chewing wood, ... it's so fierce, dear!".
The troupes used to be a safe haven for Linh people and people like her. A place for friends shared experiences and situations, and a place to truly be herself.
"Sweetheart, sit down, I'll finish it soon..." Linh insists as I wade through the mess to watch her make noodles. The cart was her lifeline in the days after she quit her singing career to be a carer for her parents. Once upon a time, she had to push the cart around to find customers, nowadays people come to her. Lin's takeaway is known because of her delicate preparation, delicious taste, and affordable prices.

With sweat on her forehead, she starts to speak about her childhood days.
I'm surprised at how naturally she expresses herself. She recalls how from a very young age she felt uncomfortable when her mother and teachers forced her to cut her hair. She still loves her long hair so much. Her brows slightly furrowed, she recalls the time her mother took her to the barber when she was a child. Linh was so shocked she "messed up", and cursed at the barber - of course, after that no one wanted to cut her hair. With long nails, she always confidently stood in line with other girls at school. Teachers gave up trying to change her, and simply told her to hide in the toilets whenever there was a surprise check. Nhất Linh looks magnificently proud when she talks about her girlhood.
The positive atmosphere darkens when she suddenly mentions friends who are entering middle age, girls who had overcome social prejudices and lived proudly as their true gender, are now having to cut their hair to "be men".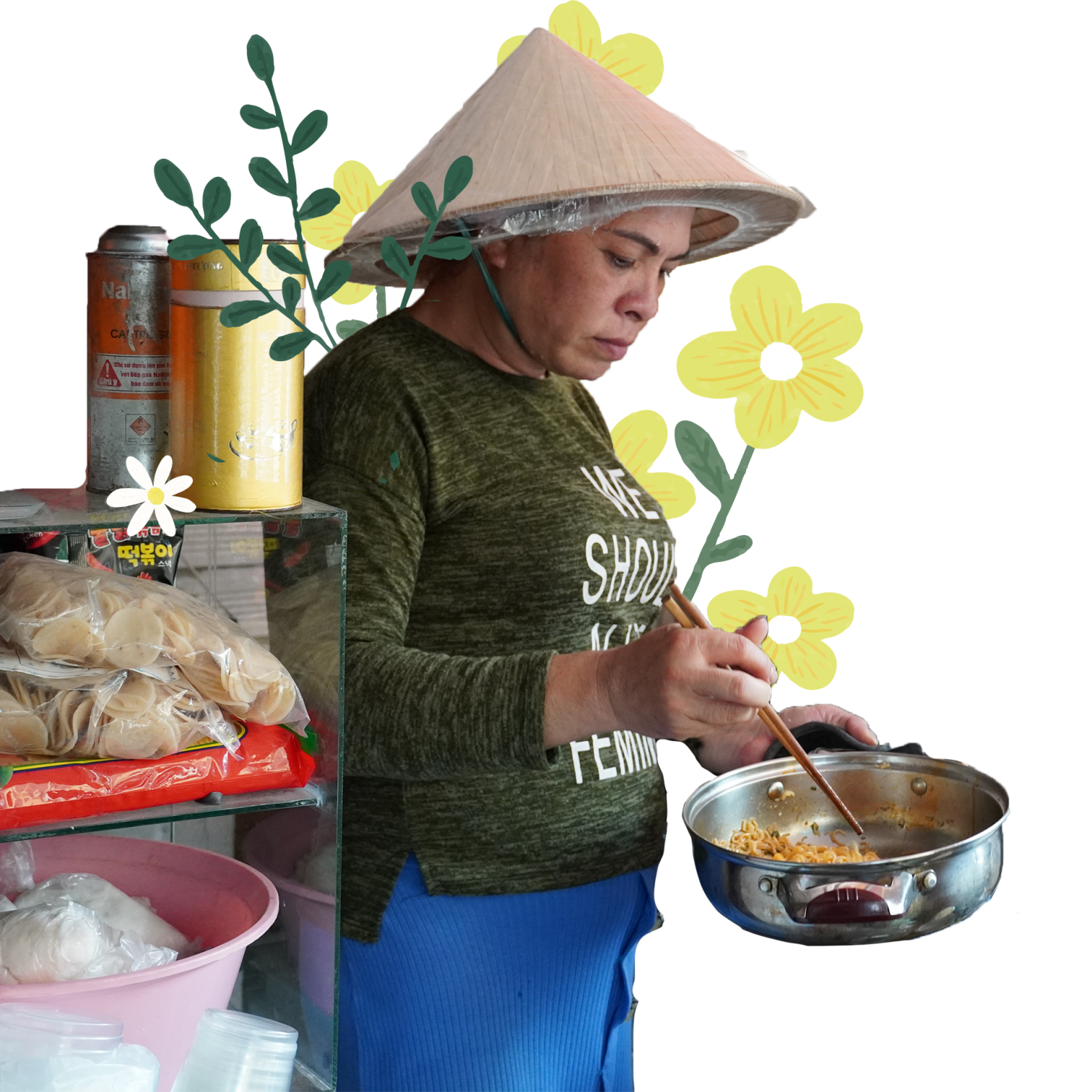 Linh says how as she started aging, people started calling her out for being 'old', 'ugly', and 'gay'. Everything was okay when she was still 'young and beautiful' however society is still very discriminating.
"The hair is like the soul of a girl. I love rolling my hair up even though I don't have much. As a girl, I won't cut my hair. I love every strand of it." Her face is full of determination.
Whoever you are, I am your mom and I love you.
I gave birth to her so I accept her as she is.
When being asked about the future, Linh's mother suddenly frowns, perhaps she's thinking about the challenges of the near future, maybe also the days far away. She slowly says, "We do care about the future, but my child's well-being comes first. As long as she doesn't become a bad person and lives virtuously, I accept all."
As soon as she answers, she turns her eyes to her daughter and smiles. Perhaps the most comforting thing for all mothers is the happiness of their children, even if it has come at the expense of a lot of tears, and the necessary courage to overcome all of society's prejudices.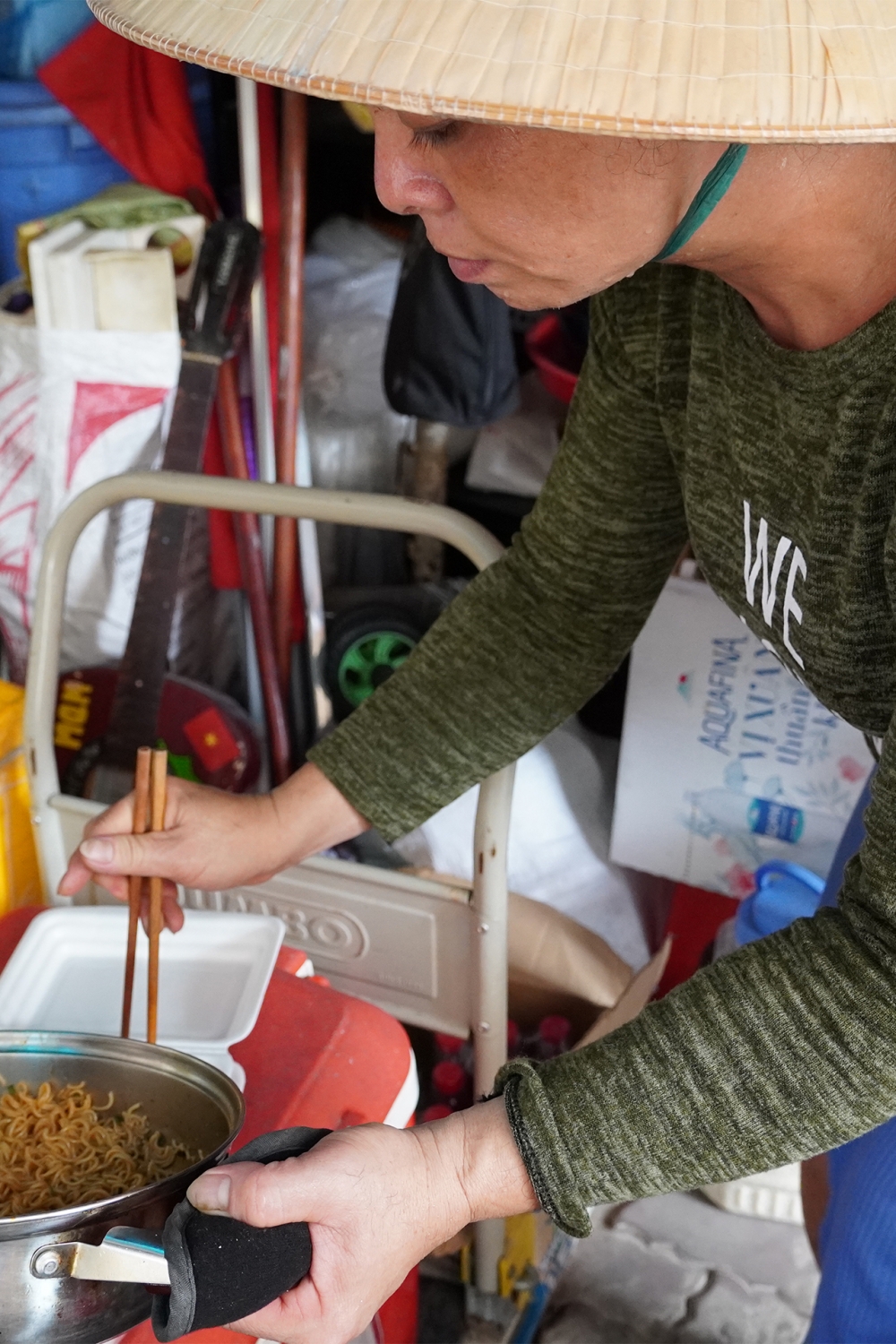 "No one accepts her, she hardly lives. She has nothing but morality and conscience."
Her mother's narration could hide her anxiety, yet was filled with happiness. When a mother gives birth to a child, she doesn't expect anything but her child to be safe and happy, she is a mom, nothing less.
The story of transgender acceptance in Vietnam is unfinished
Before I age and die, I must have
my gender recognition paper.
In 2015, the Vietnamese transgender community rejoiced when the Civil Code recognized the right to be transgender. However, to this day, we still do not have any laws which guarantee rights and legal obligations for transgender people.
Linh excitedly talks about the prospect of the day when the law is passed, how happy she and her friends will be. They will all be able to redo their paperwork, and she will be able to hold her official papers stating that she is a woman.
She sighs suddenly. Linh's transgender pals are aging, their constant worries are no longer down to hormone injections or surgery. They're thinking a lot, worrying about that moment when they'll have no one beside them, about their pronouns when they're leaving life…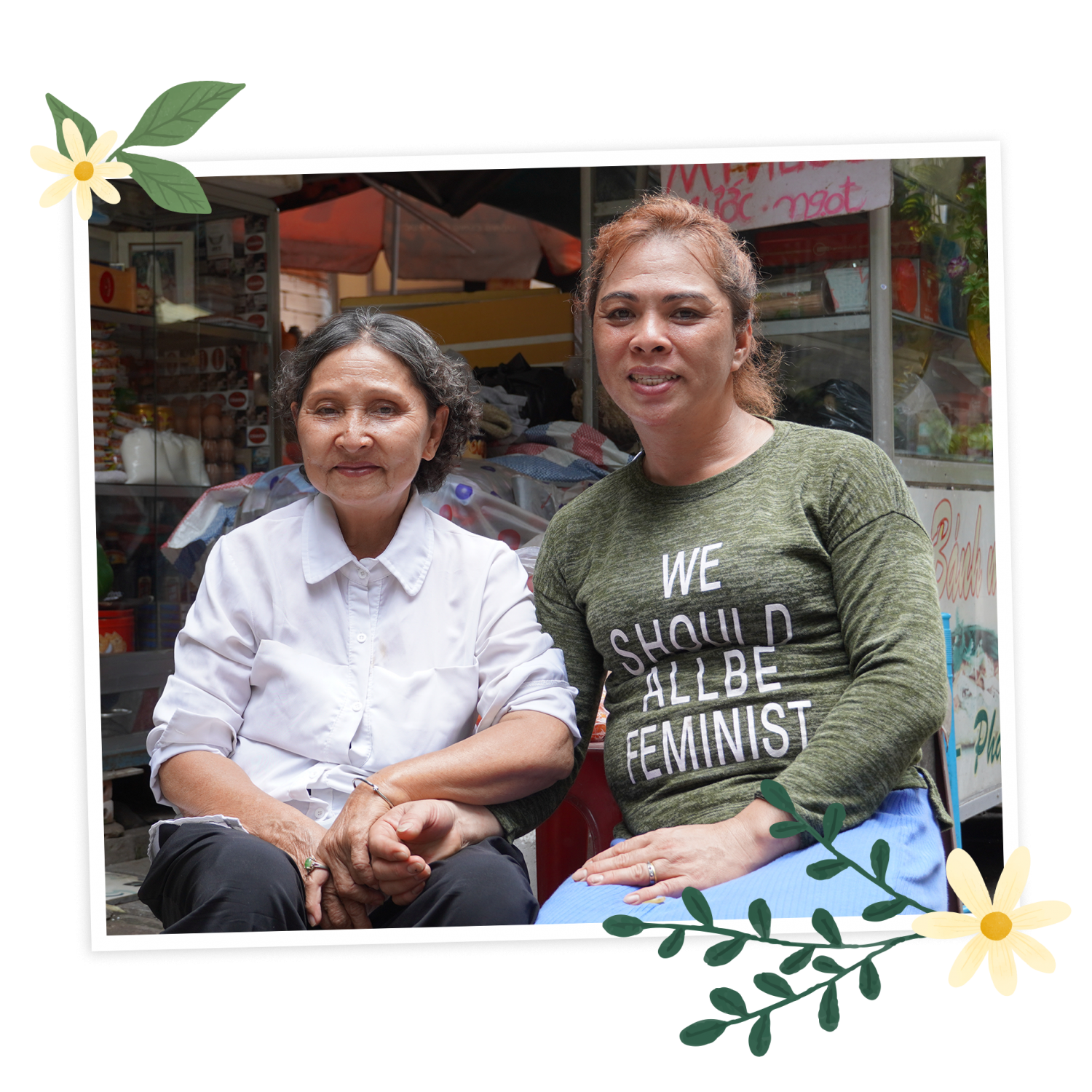 She shyly reaches out her hand to her mother when I ask for a picture of them. Mrs. Ly does not hesitate to put her hand on Linh's hand and gently comfort her.
That moment was truly indescribable.
To live as one's true self, as your true gender, is the desire and fundamental right of every human being, but sadly, this is still a huge obstacle in transgender people's lives. Every day, a large number of transgender people are betting their lives by taking doses of illegal hormones from questionable sources. They have to suffer from vicious scars on their bodies from reassignment surgery performed by underqualified doctors in questionable medical facilities, while constantly living under the constant pressure of prying glances and judgment. Even the most simple procedures, such as withdrawing money, or booking travel, cannot be performed, since the appearance on the identification documents is not the same as how they are judged.

On May 17, 1990, the World Health Organization (WHO) officially removed 'homosexuality' from the list of diseases. On this overdue yet momentous occasion, the global LGBT community rejoiced and chose May 17 as the 'International Day Against Homophobia and Transphobia' (IDAHOT - International Day Against Homophobia, Biphobia, Intersex-phobia & Transphobia).
The theme of this year's IDAHOT Day is 'Together: Responding, Supporting, and Healing!'
This topic has arisen due to the challenges raised by the impact of the Covid 19 pandemic on the LGBTIQ community. In Vietnam, the LGBTIQ community, as well as suffering the same hardships as everyone else in society, have experienced strong and negative impacts in other areas of life.
Considering the theme of this year's IDAHOT day, the LGBTIQ community in Vietnam will be preparing practical activities to both participate in the prevention of Covid 19, and to promote the fight against discrimination against the LGBTIQ community